The fact that Switzerland does not have a sea is a well-known fact probably even for those who did not excel in geography classes. But I've mentioned several times on my blog that there are places where you feel like you are by the sea, even if you are "just" by the lake. For example, Montreux on Lake Geneva, which is called the "Swiss Riviera", or Ascona-Locarno on Lago Maggiore. Another such place we discovered last weekend is the Plage des Pins d'Yvonand beach on Lake Neuchâtel.
Where to find Plage des Pins d'Yvonand beach
The Plage des Pins d'Yvonand beach can be found at the south-eastern end of Lake Neuchâtel, less than an hour's drive from Bern, 40 minutes from Lausanne or Neuchâtel. The nearest town is Yverdon-les-Bains.
Parking
Enter Av. des Pins 10, 1462 Yvonand in the navigation. If you are coming from the direction of Yverdon-les-Bains, take the Route de Payerne in the direction of Yvonand, then turn left onto Avenue des Pins. After a few dozen metres you will come across a car park in a pine grove, close to Port d'Yvonand. This is where we parked. It was only after paying the parking fee (1 franc or euro/hour) that we noticed signs pointing to the P1 + P2 parking lot with a capacity of 250 parking spaces. So we still had to walk less than a kilometer to the beach.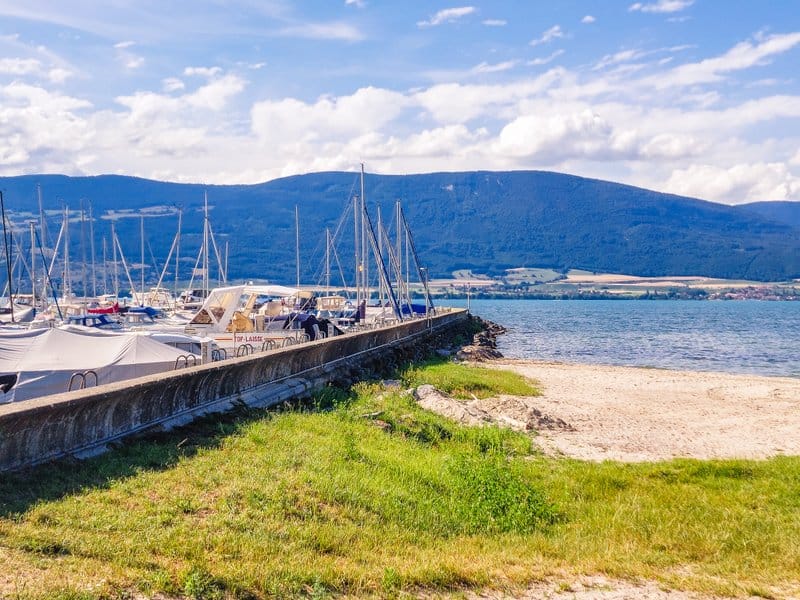 Parking is charged from April to September. You can pay in cash or via the Parkingpay, EasyPark or Twint parking apps.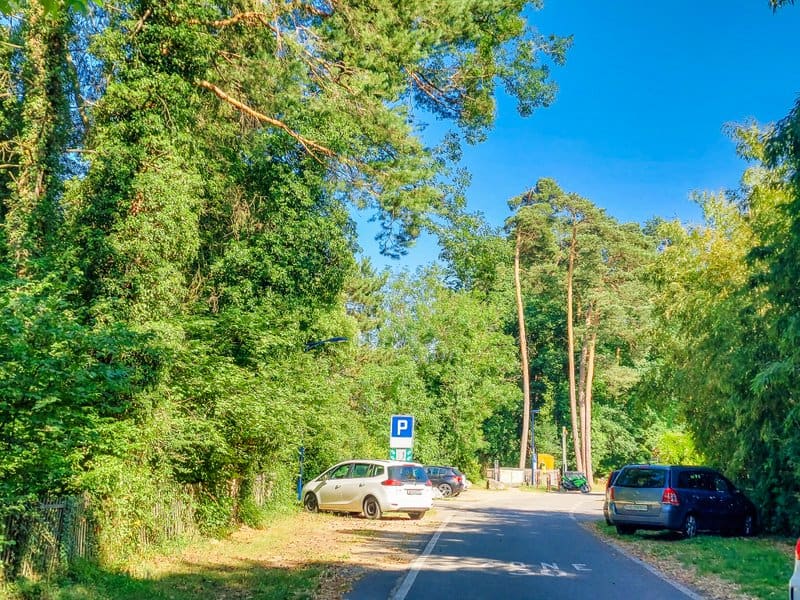 Plage des Pins d'Yvonand Beach
Plage des Pins d'Yvonand is a really beautiful and very clean beach, literally a little piece of paradise, because the water in the lake is almost turquoise and absolutely clear. I can't even believe that there is no entrance fee! It can get a bit crowded on summer weekends, which fortunately was not the case for us, even though google claimed otherwise. But still, the beach is quite big and you can easily find your spot on it. Definitely don't forget to bring an umbrella as the shade is only at the edge of the forest!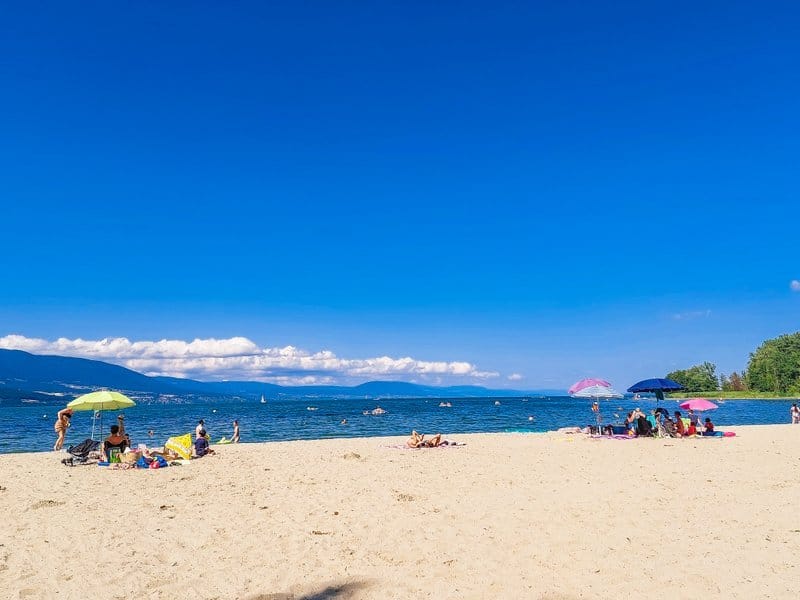 Refreshments on the beach
There is a small buffet on the beach where you can buy ice cream, summer drinks, pizza, and burgers. There are also grills on the edge of the forest where you can prepare your own picnic. There are no trash cans on the beach, but there are recycling containers by the road, so be sure to clean up after yourself on the beach and take your trash with you and then dispose of it.
Summary
Plage des Pins d'Yvonand is a beautiful place with fine sand and shallow water ideal for spending a day and swimming with small children.
You can also bring your dog to the beach.
Nearby is the Camping de la Menthue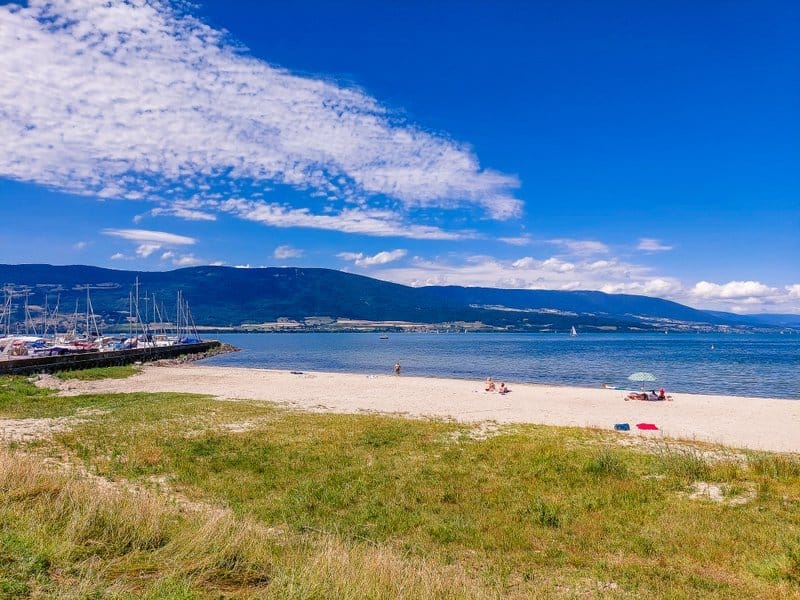 There are plenty of other beaches on the shores of Lake Neuchâtel – if you know of a nice one, be sure to drop me a line and share your tip with others (as well as this article!).