Solothurn, with its location on the banks of the River Aare, an imposing cathedral and a relaxing atmosphere is ideal for a family bike ride. In addition, children will certainly appreciate the large playground within the town center.

Trail
In this biking trip, we managed to ride the third leg of the biking trail No. 44 – Le Jorat-Trois Lacs-Emme. The entire trail goes from Kirchberg to Aarberg and is 52 kilometers long, but we rode "only" 20 km to Solothurn and 20 back (you can find the map here).
Start and finish: Kirchberg (BE)
Total distance: 40km
Conditions: easy, the trail is flat and goes through the woods along the river, partly on paved paths. Through villages and towns leads on paved asphalt roads / local roads.
Utzenstorf
When passing through this village you come across the interesting buildings with their architecture typical for the Swiss countryside.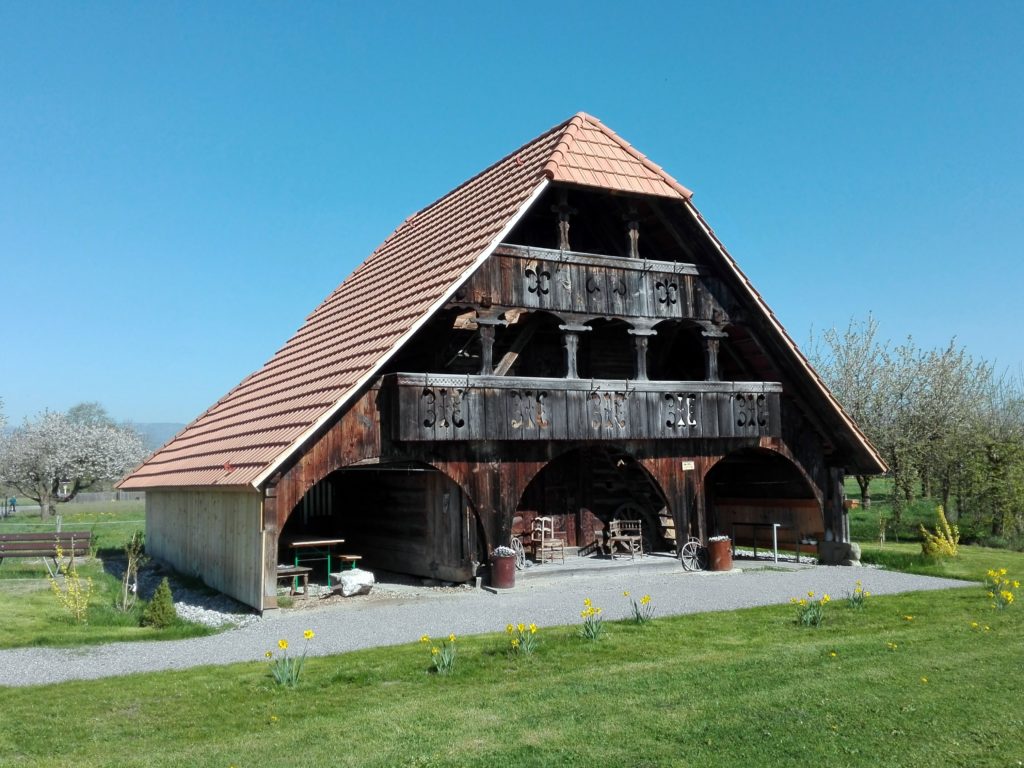 If you make a small detour, you can visit the water mansion Landshut – I wrote about it here.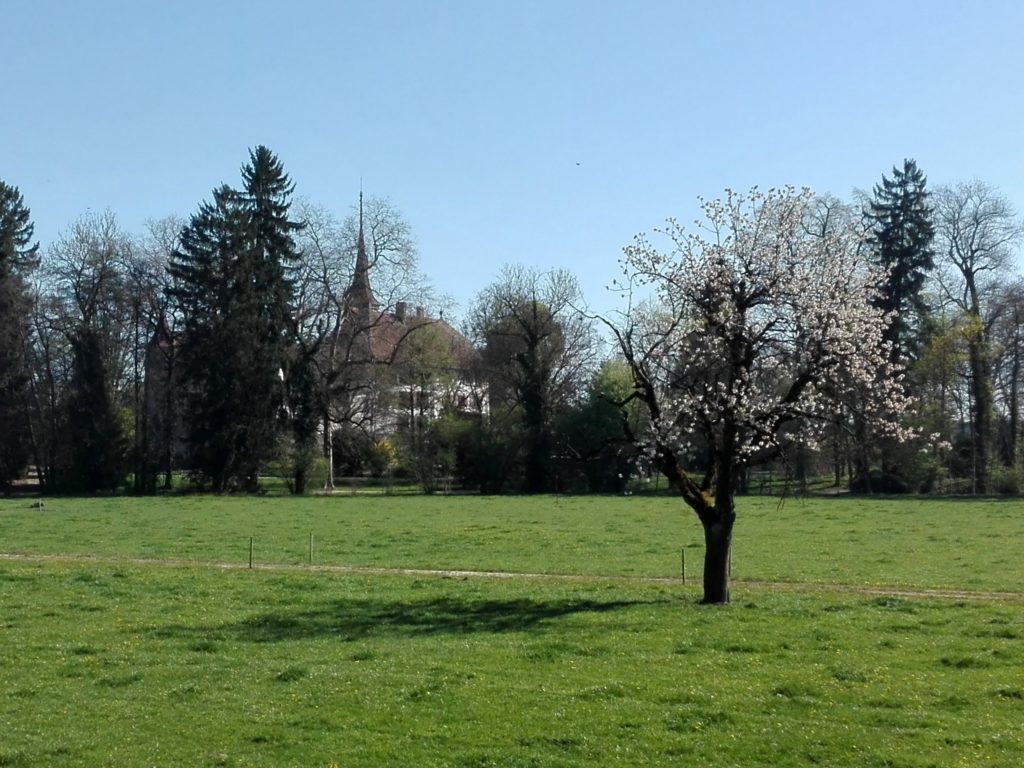 Biberist
From Utzenstorf to Biberist the trail goes along the river Emme. If you look carefully, you will probably spot the work of inhabitants of its banks. Correct me if I'm wrong, but I think Biberist village name derives from the word beaver, in German, "der Biber".
As we drove through this leg of the trail, I had felt like I rode Lednice-Valtice area (UNESCO Czech heritage site), because here we were accompanied by the typical "smell" of wetlands.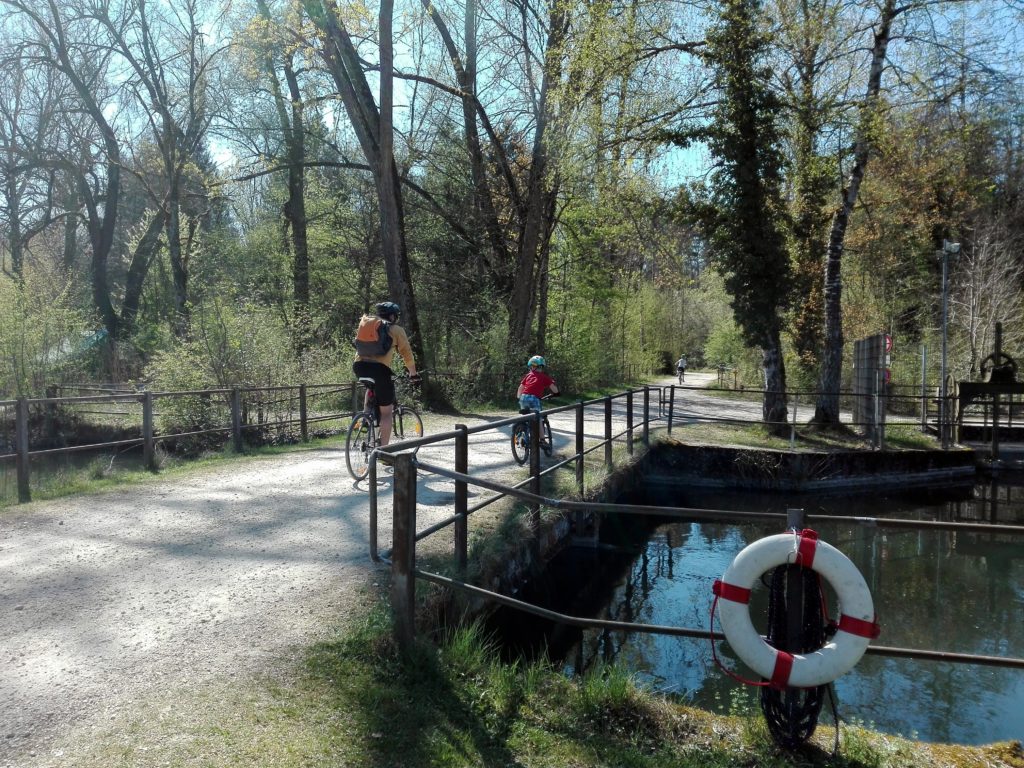 Right in the center of Biberist, you can relax by the fountain with drinking water (what else in Switzerland :)). Here we not only found a comfortable place to rest but also encountered a Swiss trait that continues to amaze me, even though I thought I already got used to it long ago: on Sunday there were exposed flower pots in front of the closed store that no one steals. Because in Switzerland, things aren´t stolen, just relocated 🙂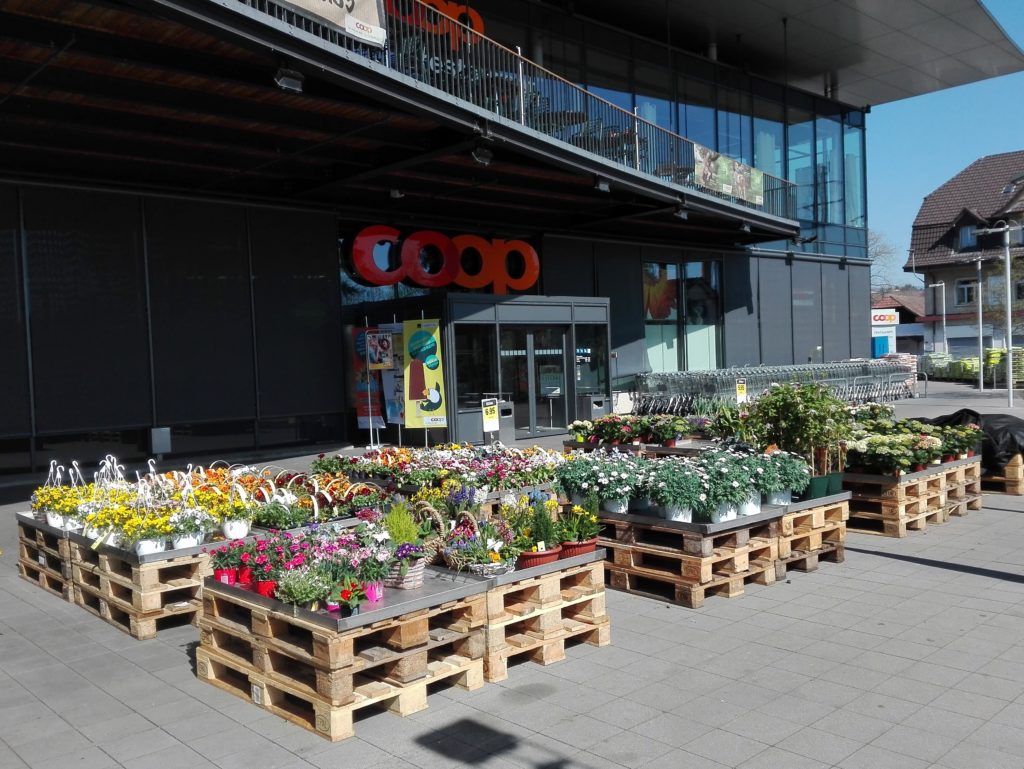 Solothurn
Children´s playground
In Solothurn, the trail takes you directly to the children's playground with slides and cable car. Here you can have a picnic on the grass or at the tables designed for this purpose.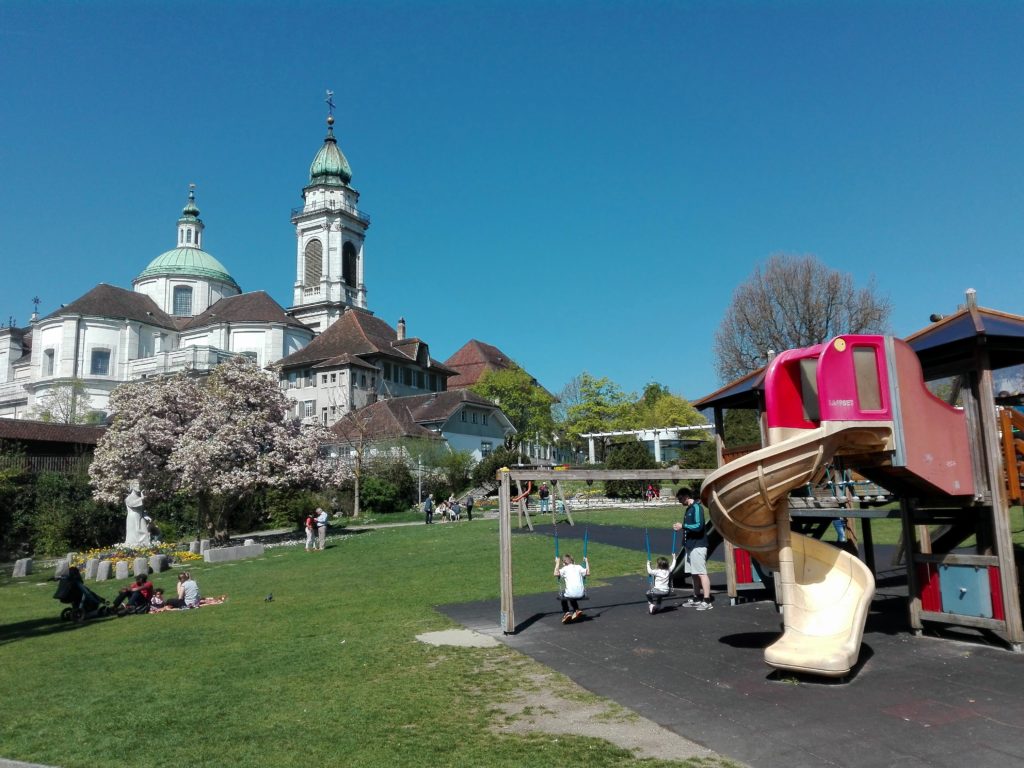 In addition, here you can admire an interesting statue that commemorates the founding of the Swiss Confederation in 1291.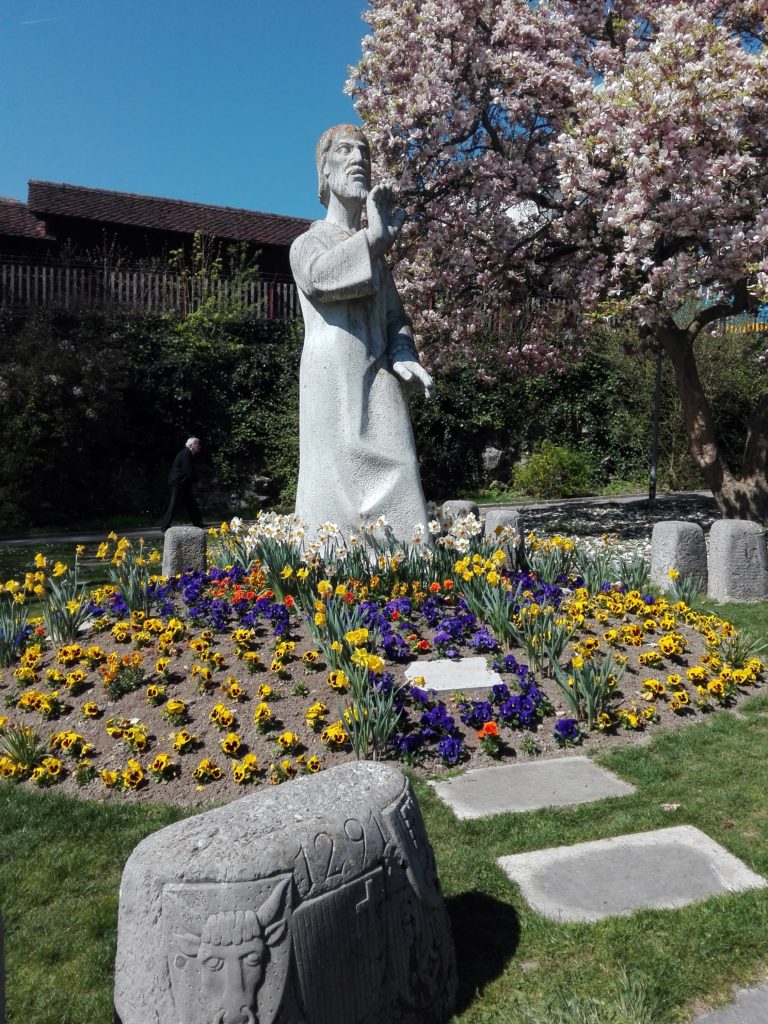 In the park, you can also find an aviary with many interesting species of parrots.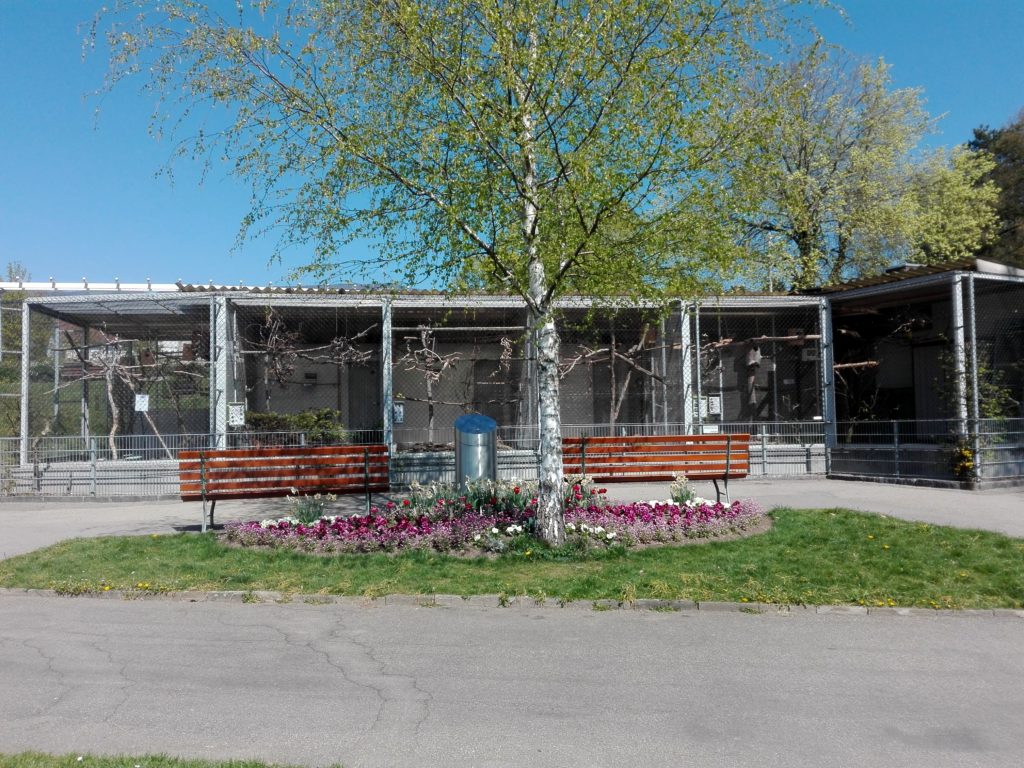 Lookout tower
If you get tired with lounging in the park, you can go towards the cathedral of St.Ursen. Here you have the opportunity to climb 249 stairs to ascend the tower, from where you can admire the beautiful views of the city, the Alps, and the Jura mountains. Admission fee is 3 francs for adults, two francs for youth (12-17 years) and 1 franc for children.

Cathedral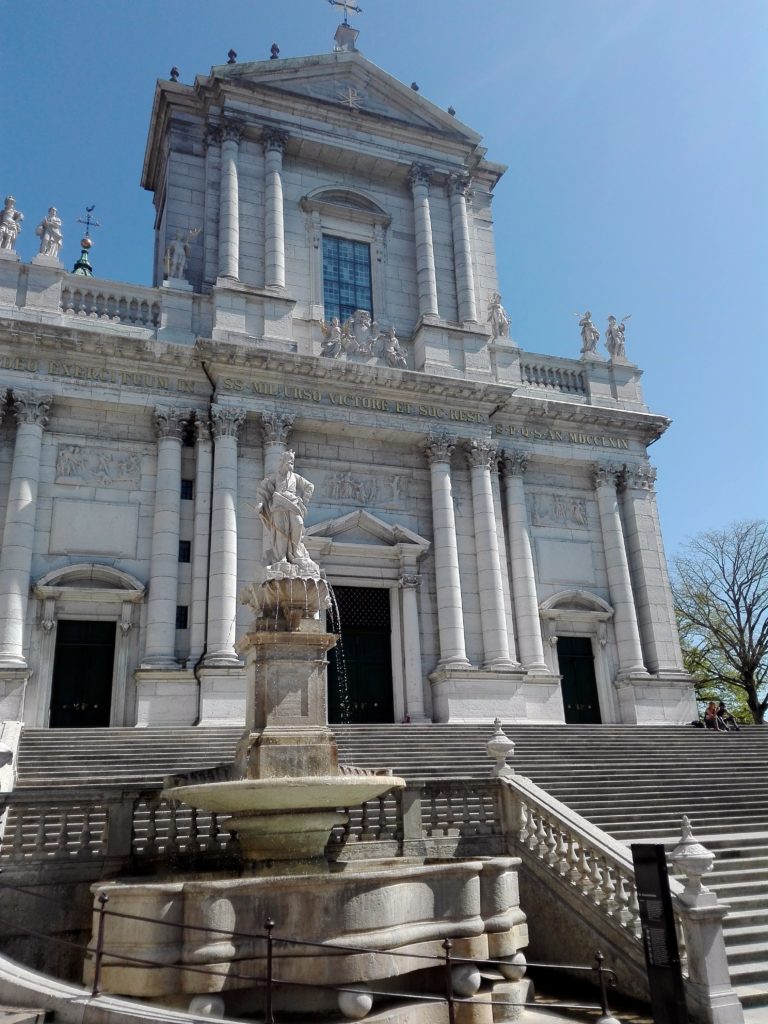 Relax
In Solothurn, you will find countless nice places where you can take a rest and relax by the coffee. While at the river Aare there are cafés occupied by local youths in good weather, the center of the is surprisingly quiet and off the tourist jam.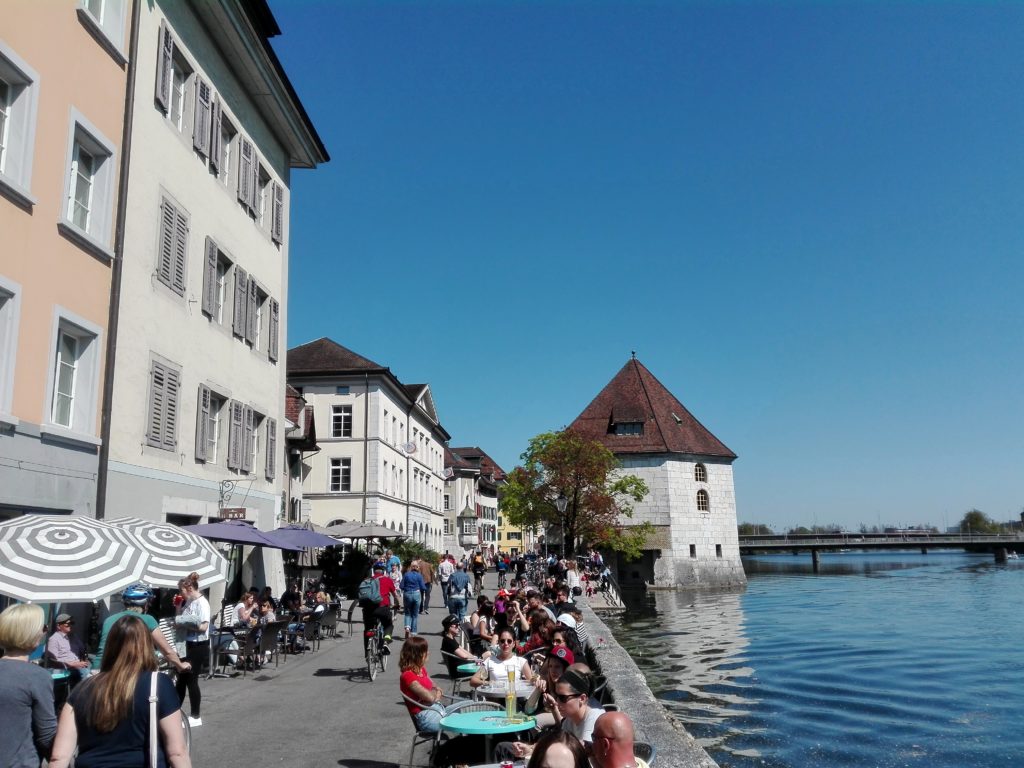 We had a delicious ice cream in Confiserie Hofer (Gurzelngasse 26 or Stalden 17). Here you can taste a traditional local specialty – hazelnut cake "Solothurner kuchen". Cake from this patisserie won a gold medal "Swiss Bakery Trophy" two years in a row!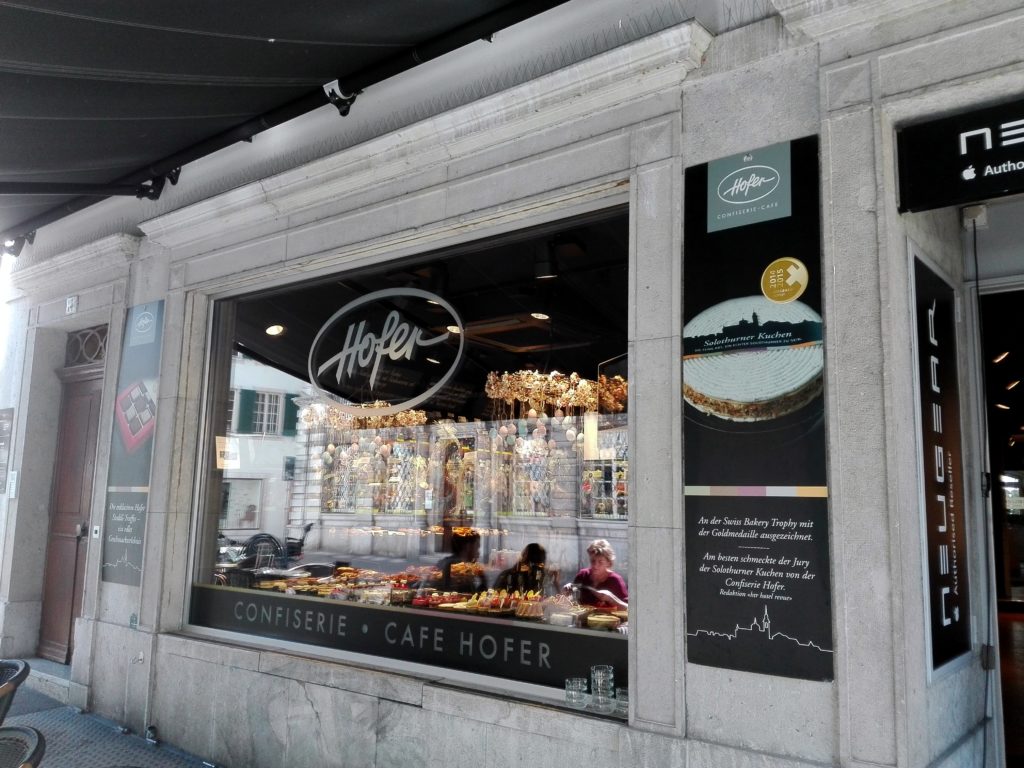 My tips
The whole trail is a very pleasant ride for less experienced cyclists. But beware: in some municipalities, the trail goes through dangerous junctions (Utzenstorf, a roundabout in Biberist and intersection in the center of Zuchwill). Here I recommend to dismount the bike and use the pedestrian crossing.
If you want to make a picnic along the way and roast some goodies, you can find a fireplace near Utzenstorf, or you can be like locals and set a fire directly on the stones of the river Emme 🙂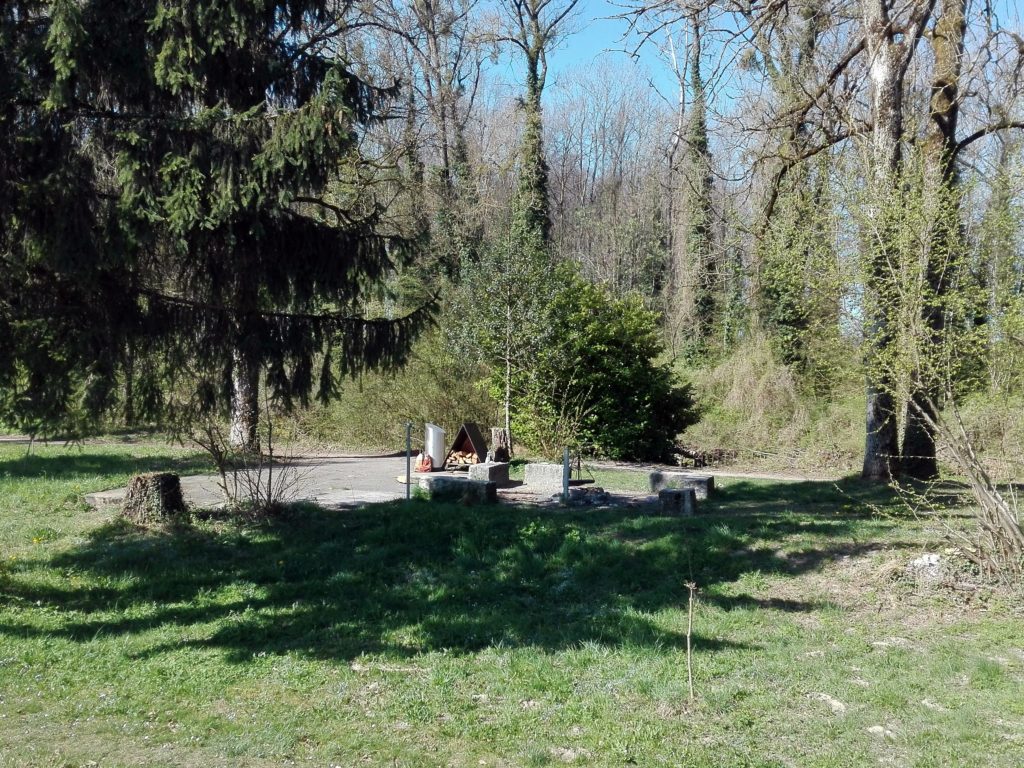 So, has my post lured you to sit on the bike and go explore the beauty of Solothurn? Is there any place that you like in Solothurn? Or do you know any other trail, which would you recommend me and that can be easily managed with kids? Tell me in the comments!
And if you don´t want to miss any of my recent posts please sign up for my blog in the top right-hand corner of this page. Thank you 🙂
I will appreciate any time if you share my posts on Facebook or Twitter. It helps get my blog out to more people, who may like my posts.
Be sure to follow me on Facebook, Pinterest, Bloglovin, and Instagram.
And of course, I look forward to reading all your comments.
http://eepurl.com/cLcyPb