Who wouldn't know the traditional Swiss cheese with holes that is made in the heart of the Emmental Hills? From December 2018 you will find a new tourist attraction in Schaukäserei in Affoltern not only for children: Königsweg! Why this name? Because the Emmentaler AOP, which is produced here, is considered the "King of cheese" and therefore the "King´s way".
NOTE: This is not a sponsored post. We won an adult ticket for the Königsweg at our visit to Frühlingsfest in Dürrenroth. But even if we didn´t win it, we would definitely visit the Affoltern cheese factory anyway, because it is a popular place to show our visitors. Because you know how much I love "my" Emmental.
Arrival
Affoltern im Emmental is 30 kilometers northeast of Bern.

If you take the A1 motorway from Bern or Zurich, take the exit Kirchberg and continue in the direction of Burgdorf and then Hasle-Rüegsau.
If you take the A2 motorway from Lucerne, take the exit Sursee and continue in the direction of Huttwil towards Sumiswald via Häusermoss to Affoltern.
There are two relatively large parking lots right next to the dairy, parking is 1 franc per hour. Two tickets will come out of the parking machine. The second one can then be used as a voucher for a discount at a store or restaurant.
Opening hours and admission fees
Open daily (including Sundays and public holidays) from 09:00 to 18:30 (from April to October), respectively from 9:00 to 17:00 (November to March).
Children up to 11 years old have a free tour. Adults pay 15 francs, youths (12-17 years) pay 8 francs for admission. There is a special 20% discount for families (1 adult + 1 child).
Emmentaler AOP
The Emmentaler AOP is an absolute premium product due to its tradition and outstanding quality. Approximately 18,000 tonnes of Emmentaler AOP are produced each year in about 120 carefully selected Swiss cheese dairies. 12 liters of milk is needed to make one kilogram of cheese.
An Emmentaler AOP is produced from untreated raw milk and free of any additives from experienced cheese masters.
Königsweg – King´s way
Before the tour
When buying tickets for a tour, you choose in which language
(German, French, and English) you want the tour.
It's good to be on the premises at least 2 minutes before the tour starts. The interval between tours is 6 minutes.
Tour
During the tour, you will hear interesting information about the history of the famous Emmentaler AOP, which is produced according to a traditional recipe dating back to the 13th century. The history is told by three guides (you hear them from the speakers): a cheese maker, a cow, and a mouse.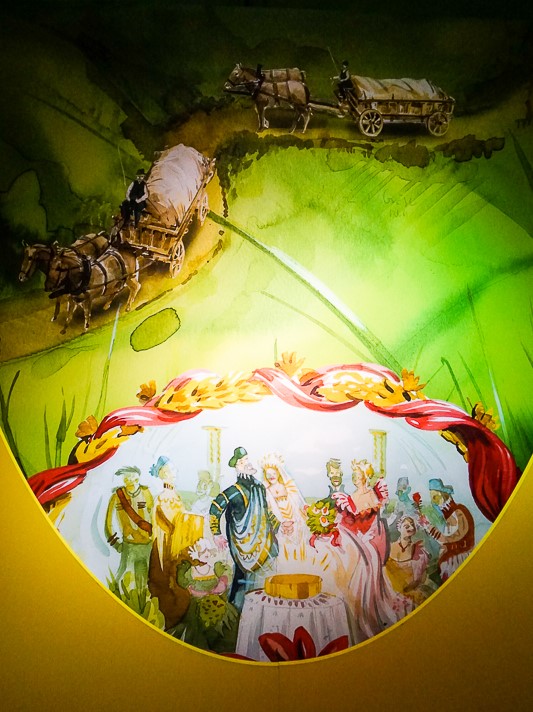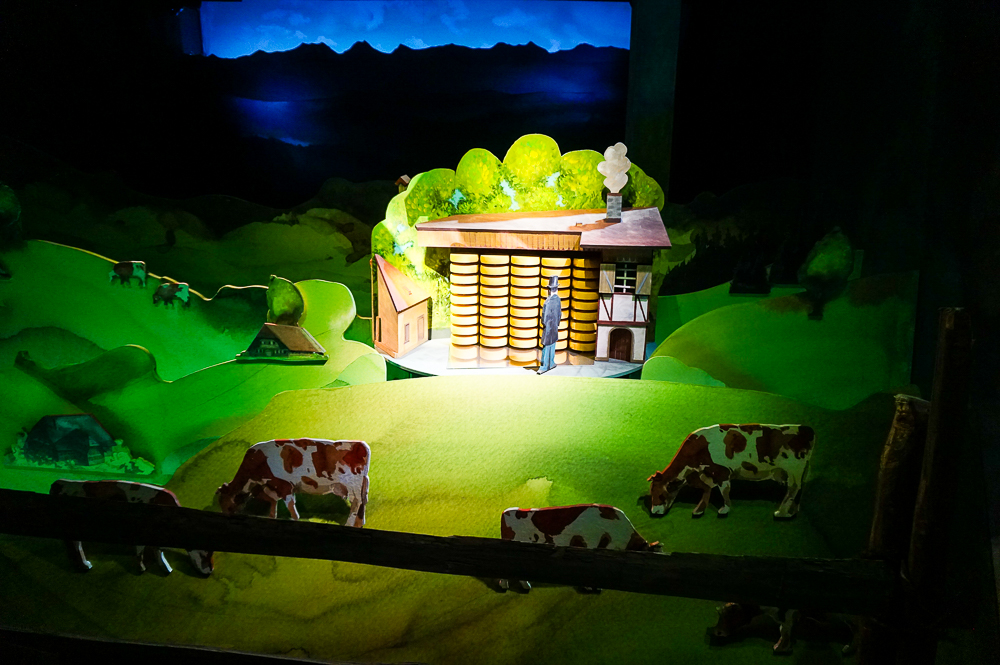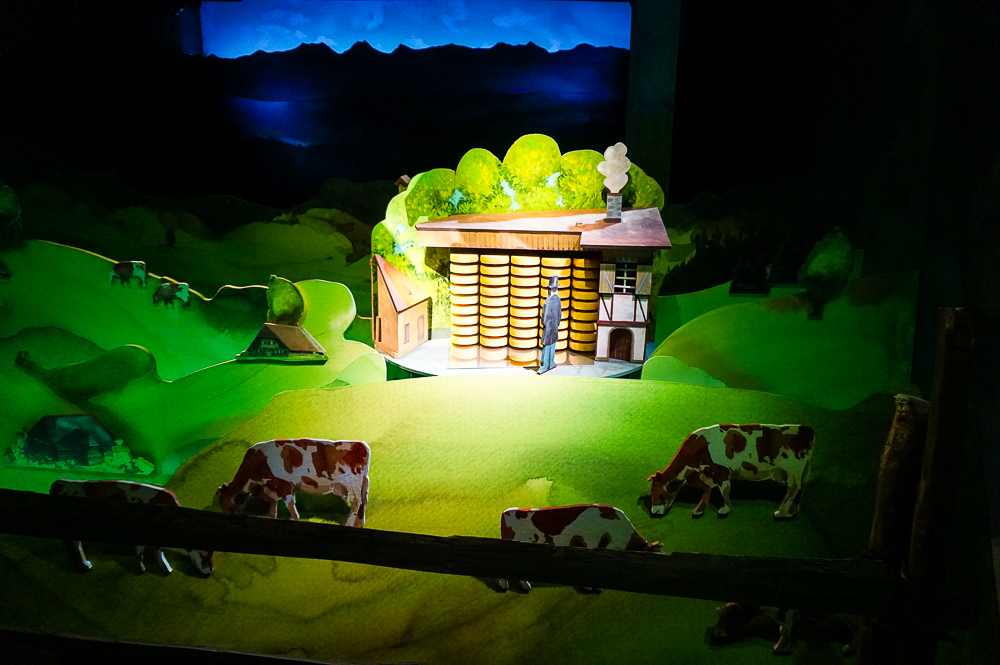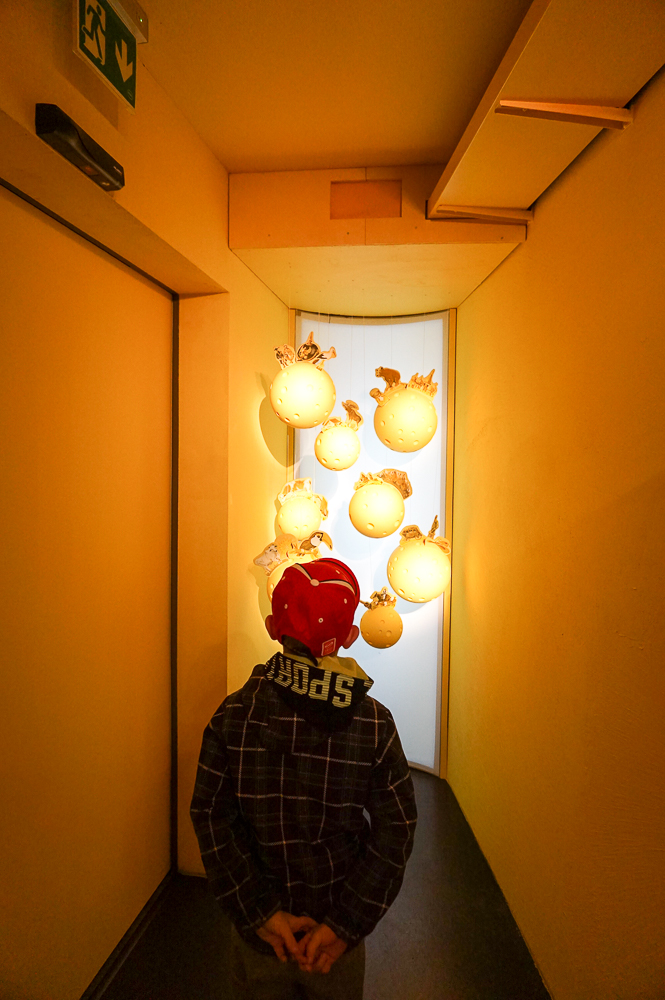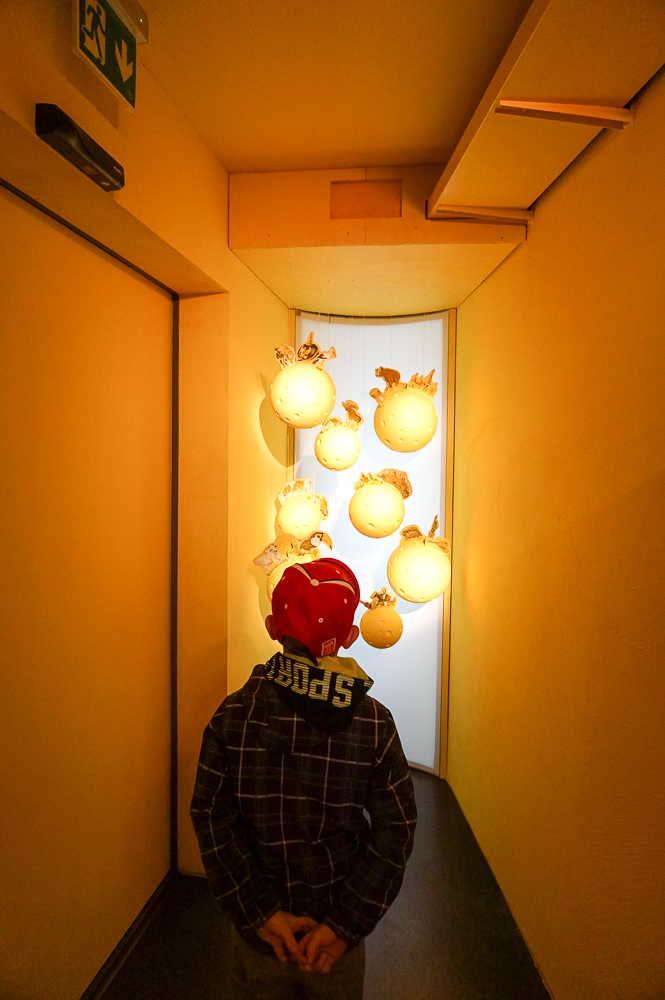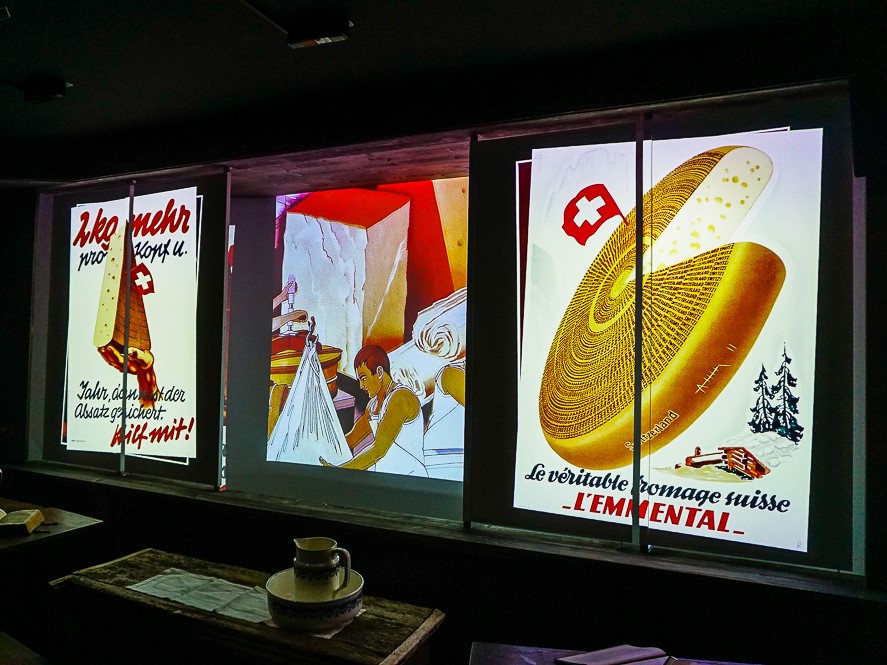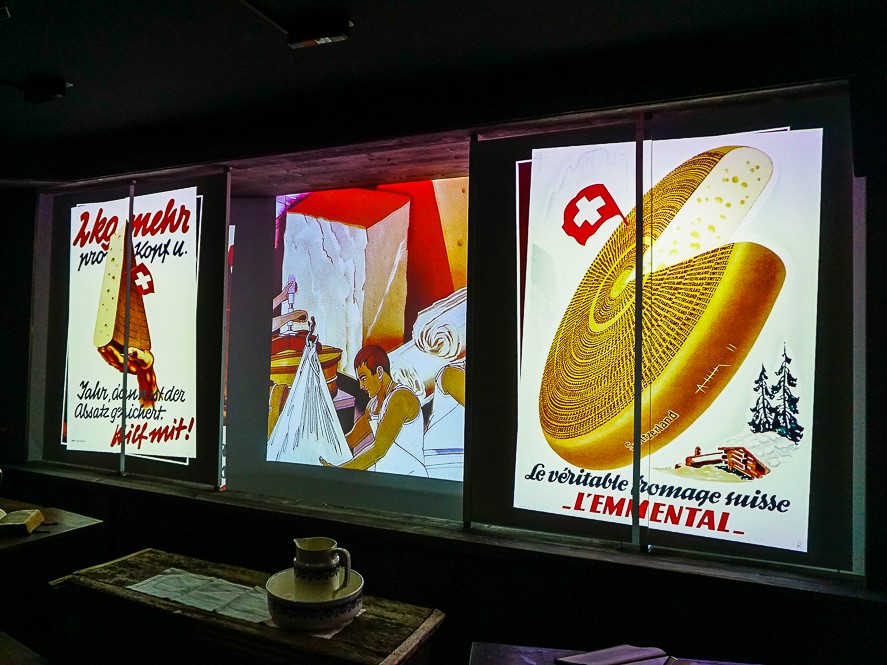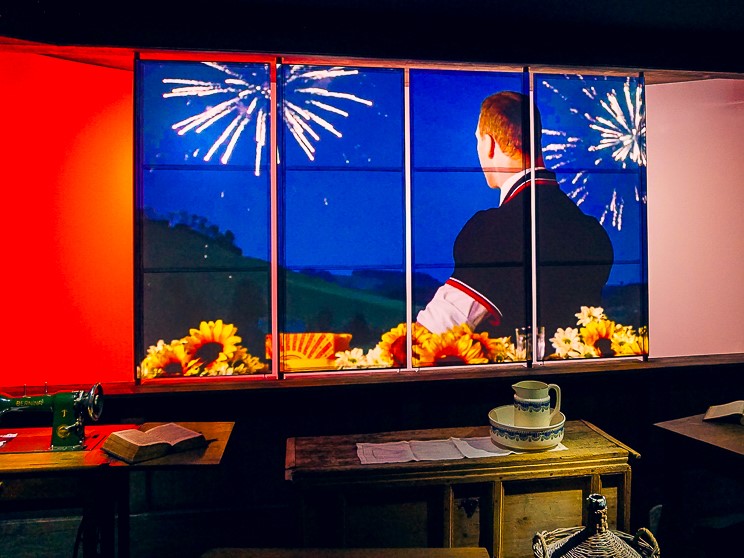 An Emmentaler AOP is made from untreated raw milk from the region from cows fed exclusively on fresh grass and hay.
The cow then tells interestingly how milk is being produced in her body (which is accompanied by the animation on the wall, which makes the process easily understandable for young children too).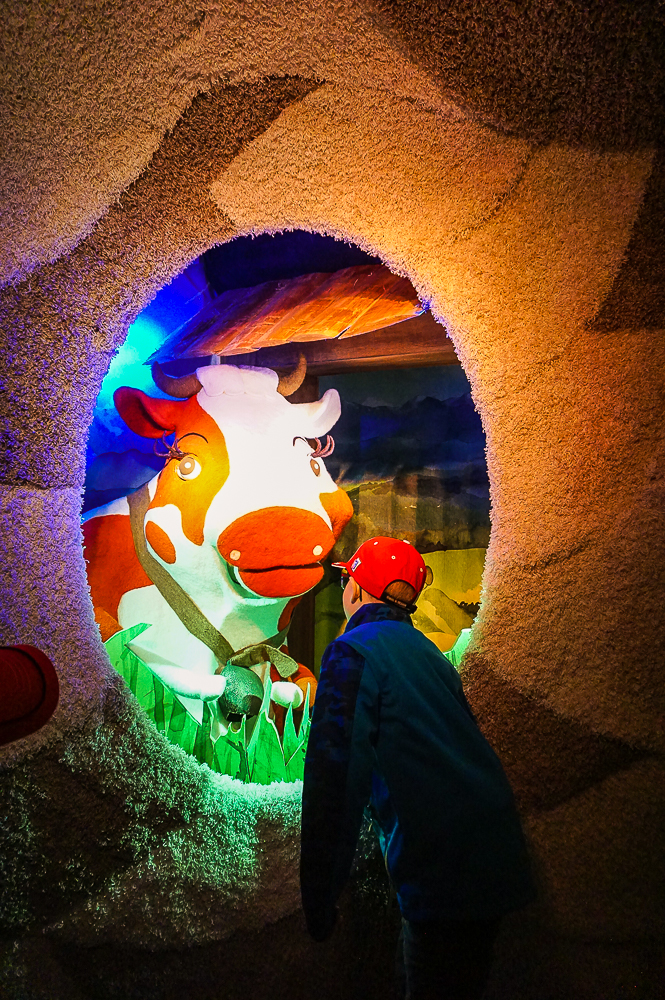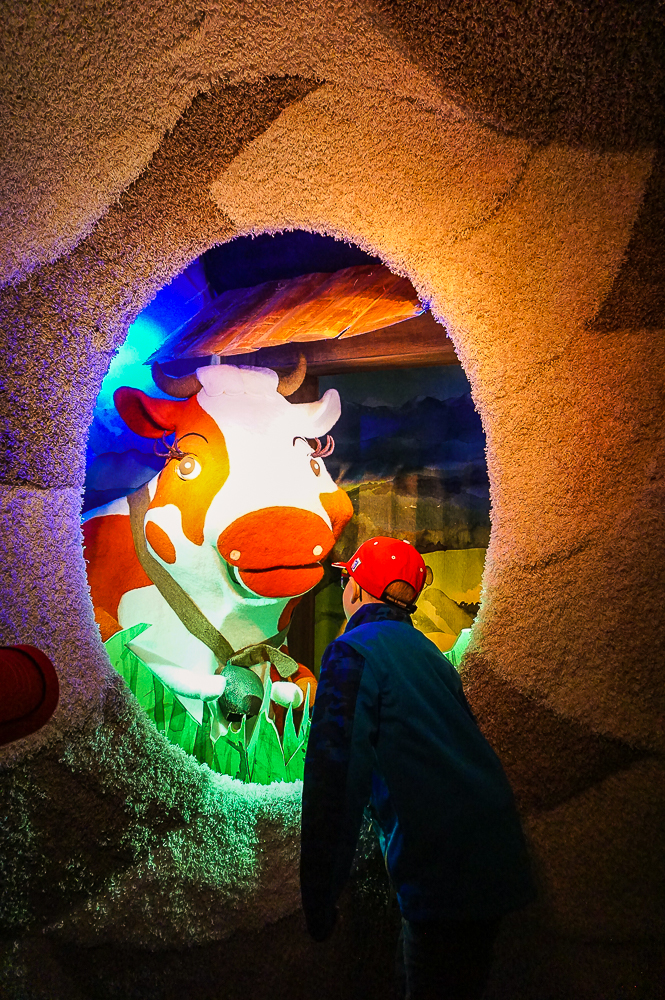 The cheesemaker tells how milk is processed into cheese and the mouse then complements the story with information on how long and where the cheese is ripening.
Cheese loaves, which are 80 – 100cm in diameter and weigh 75 – 120 kilograms, are ripening for at least 4 months in selected cheese cellars.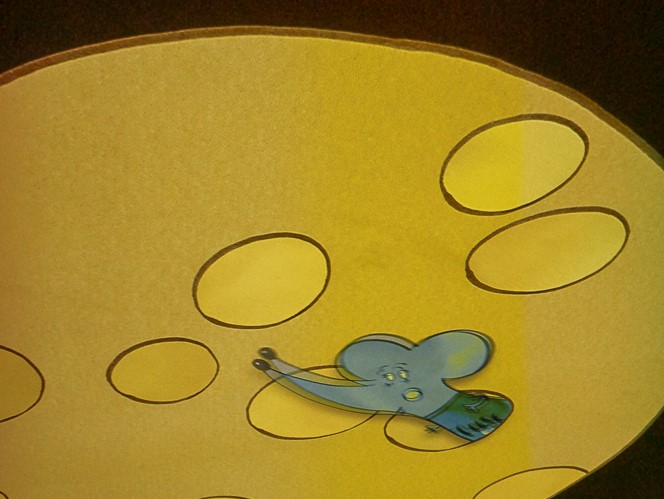 Final tasting
At the end of the tour, you will walk out in the room next to the cellar, where the cheese loaves are ripening.
The Emmentaler AOP assortment consists of seven types of cheese: Emmentaler AOP Classic (cheese with a fine nut flavor that has matured for at least 4 months), Réserve (a distinctive flavor that has matured for at least 8 months), Extra (a cheese with a strong spicy flavor matured for at least 12 months), höhlengereift (fully aromatic cheese that matured for at least 12 months, of which at least 6 months in natural "rock" cellar), BIO, Gotthelf and Eidgenoss (cheese with a strong taste that matured at least 14 months, of which at least 11 months in a "wet" cellar).
During this ripening process, the holes typical of Emmentaler AOP form.
What cheeses we got to taste at the end of the tour can be seen in the photo. What sort of Emmental do you like?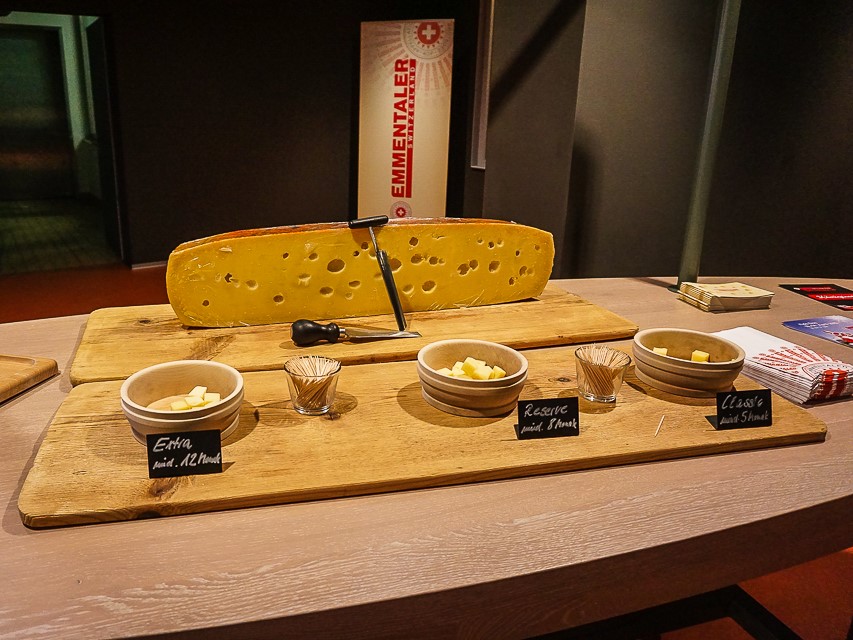 How cheese is made
After the tour, you can see through the glass gallery the room where cheese is made. The gallery runs through a shop where you can buy not only cheese but also dairy products (our children love ice cream, we like to buy yogurts here).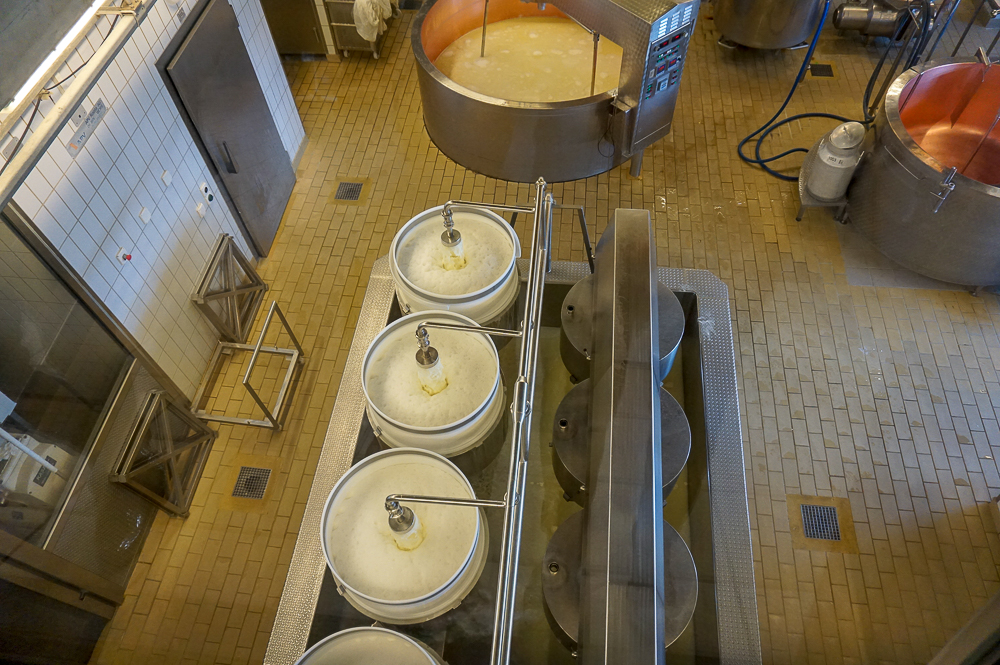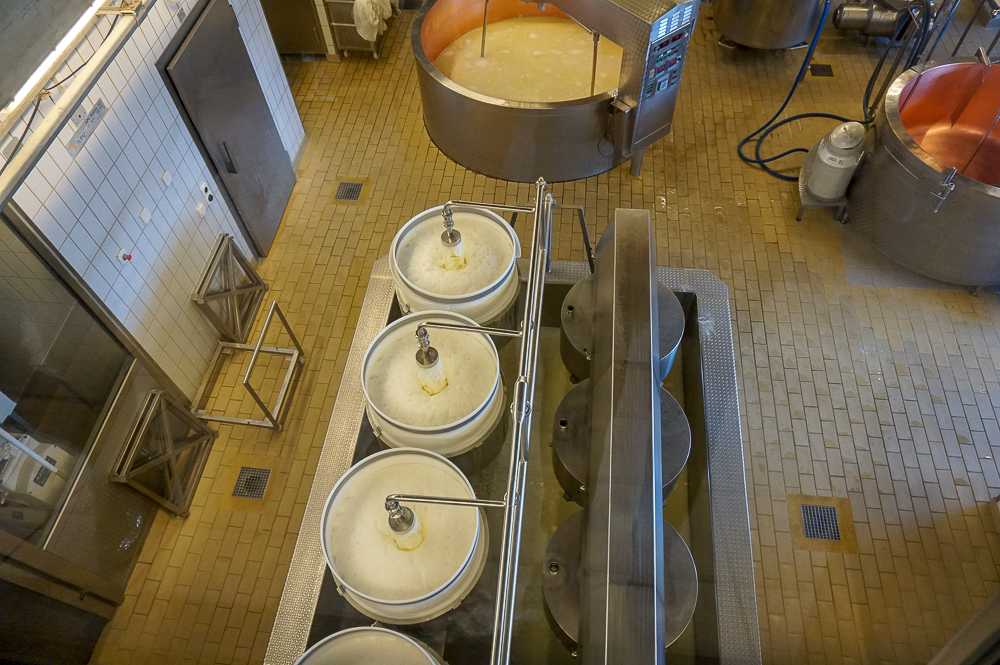 Children´s playground
Children will be pleased to find a beautiful playground in the area, of course, "cheese-themed" 🙂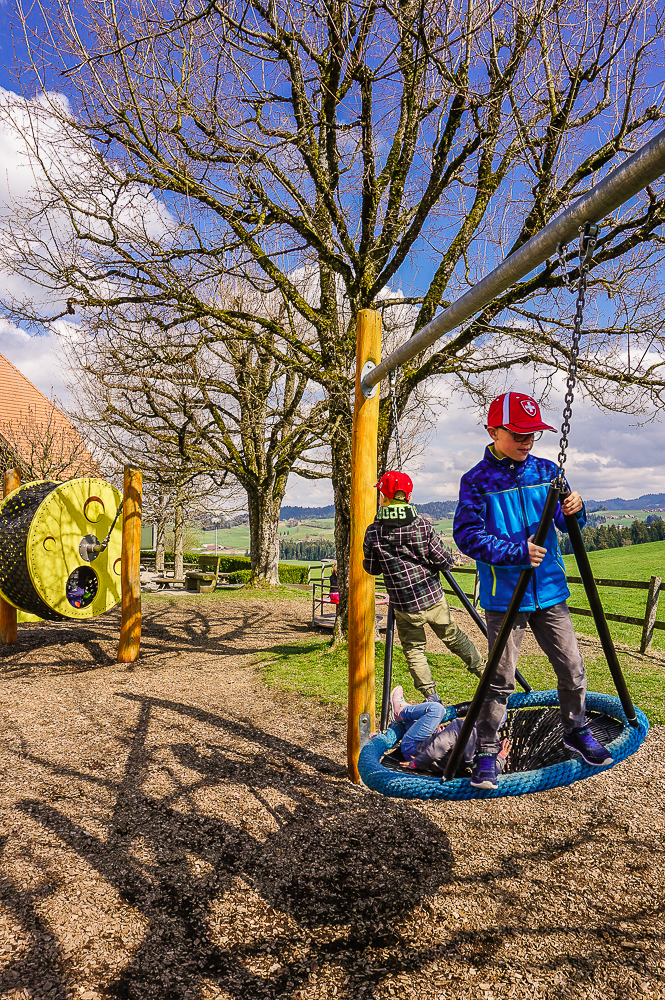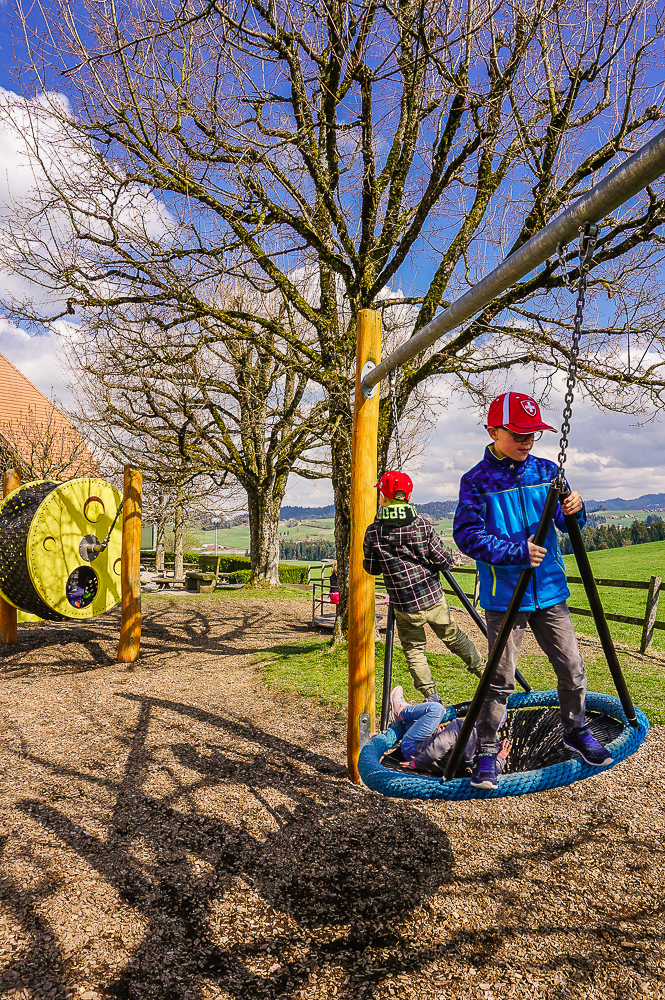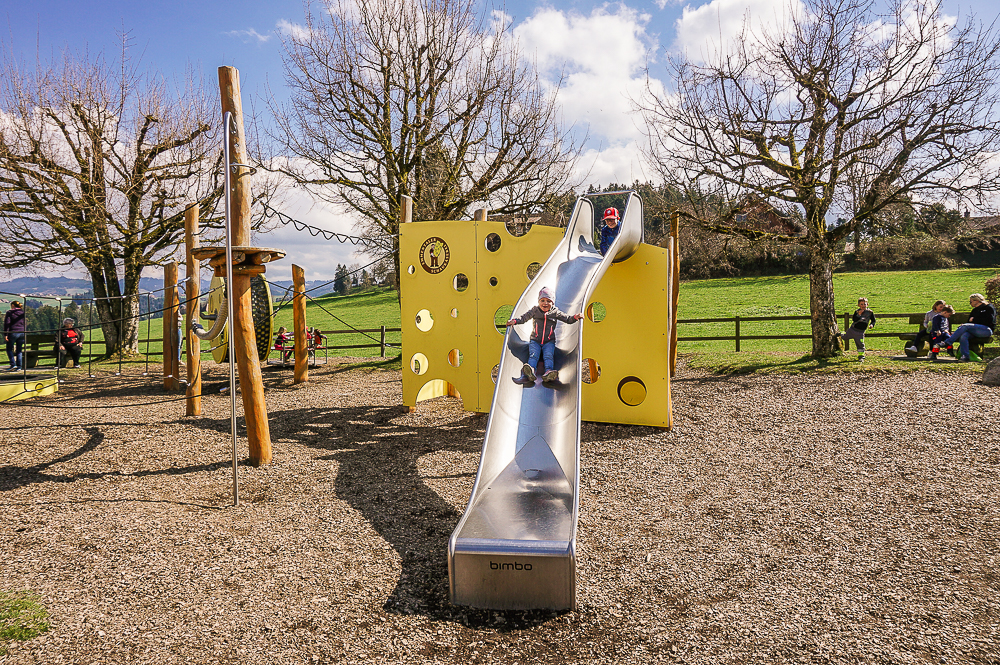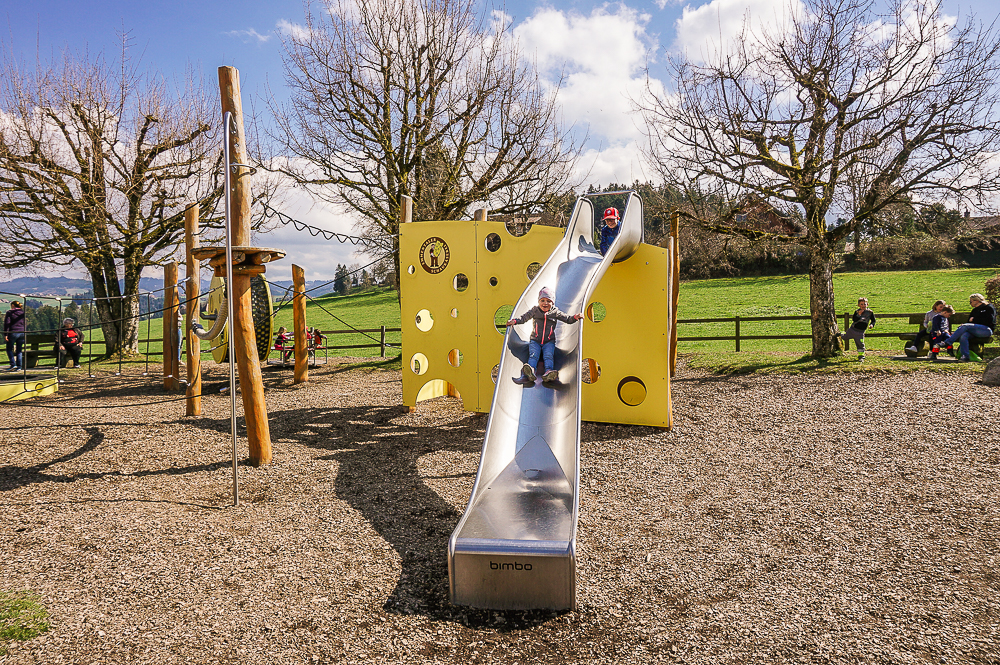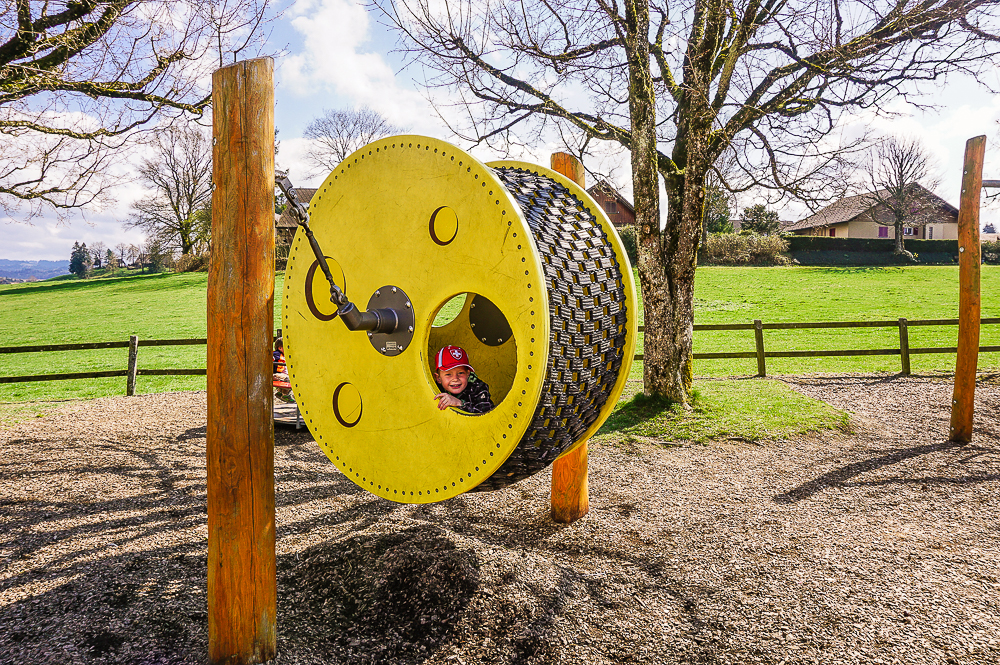 Summary
The tour takes about 25 minutes and there is no need to pre-register for it. Even smaller children can handle it.
As you move into the rooms through the automatic door, the Königsweg reminded me of a Maison Cailler chocolate tour.
The entire Show Diary area is wheelchair accessible.
I recommend the visit very much, I will definitely love to go back here again.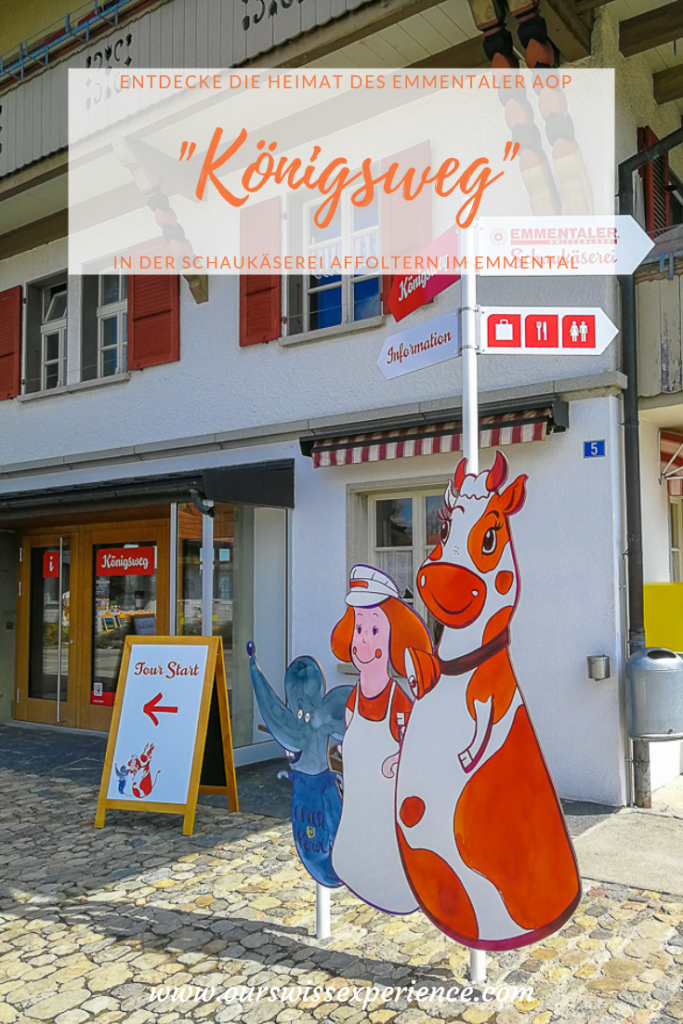 If you don´t want to miss any of my recent posts please sign up for my blog in the top right-hand corner of this page. Thank you. Be sure to follow me on Facebook, Pinterest, and Instagram.
And of course, I look forward to reading all your comments.