Are you thinking of going to Ticino, the Italian speaking canton of Switzerland, but don't know where you should head first? No wonder, Ticino is the fifth largest canton of Switzerland and offers all the possibilities to put together an itinerary of family fun and relaxation. In this post, you will find a guide on how to plan a perfect trip to Ticino´s Lugano Region.
DISCLOSURE: We are proud to partner with Ticino Turismo for today's post. Ticino Turismo invited us and 4 other Swiss family bloggers for a press trip to discover the beauties, family attractions, and fun activities in Ticino and to enjoy #ticinomoments. All opinions are solely my own.
Travel
Taking the train
We have been traveling around Switzerland recently by train. We found that it is much more comfortable than traveling by car. You don't have to focus on driving a car, you don't have to look for a place to park. The family play carriage on SBB InterCity trains is also a big plus. There are slides inside and a place for kids to play while we travel.
Even faster to Ticino thanks to the Ceneri Base Tunnel
The Ceneri base tunnel is 15.4 km long and makes it possible to be in Lugano from Zurich in less than two hours (more precisely, in 1 hour 53 minutes without changing trains), making Ticino from Zurich basically around the corner and more accessible even for a day trip. It also makes transfers between Bellinzona, Locarno, Lugano and Mendrisio easier and quicker. The journey between Locarno and Lugano now takes just 30 minutes instead of the previous 50 minutes.
Experience Ticino in a different way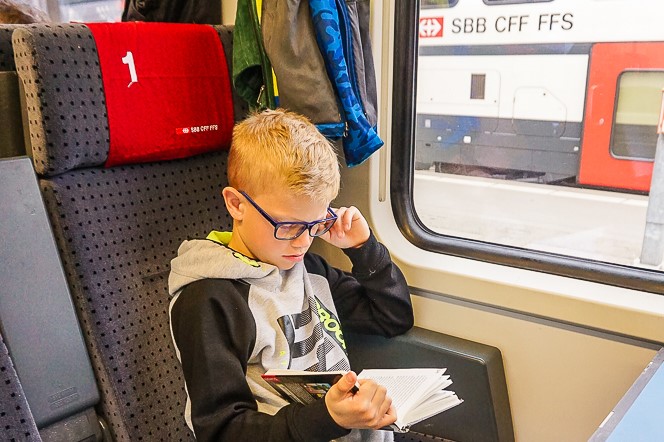 Ticino Ticket
With the Ticino Ticket (that is free of charge when you stay in a hotel, a youth hostel or on one of the many campsites in Ticino) you can enjoy free public transport and discounts on cable cars and the Swiss shipping companies as well as on a selection of the main tourist attractions.
Ask for your Ticino Ticket at your hotel.
The Lugano Region itinerary you should steal
I thought the best way to show you the beauties of the Lugano Region was to give you some of the prettiest pictures from our weekend in Ticino. So here are the 7 proven activities that you can do.
Lugano, the largest town in Ticino, is a great starting point for exploring the region. And what would it be like to visit the Lugano region without touring this beautiful town on the shores of the Lake of the same name?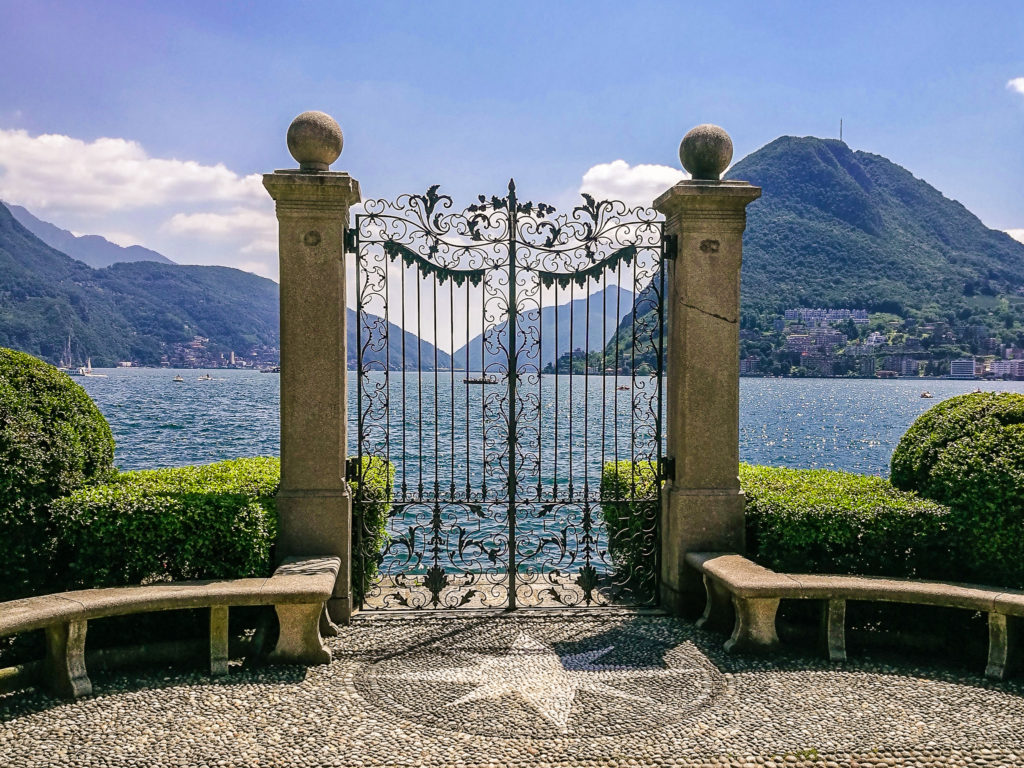 2. Go hiking
The approximately ten-kilometer trail from San Salvatore, the Lugano home mountain, to Morcote, is called a hiking classic. The funicular takes you to the 912 meters high summit of Monte San Salvatore, from where you can enjoy the view over the magnificent panorama.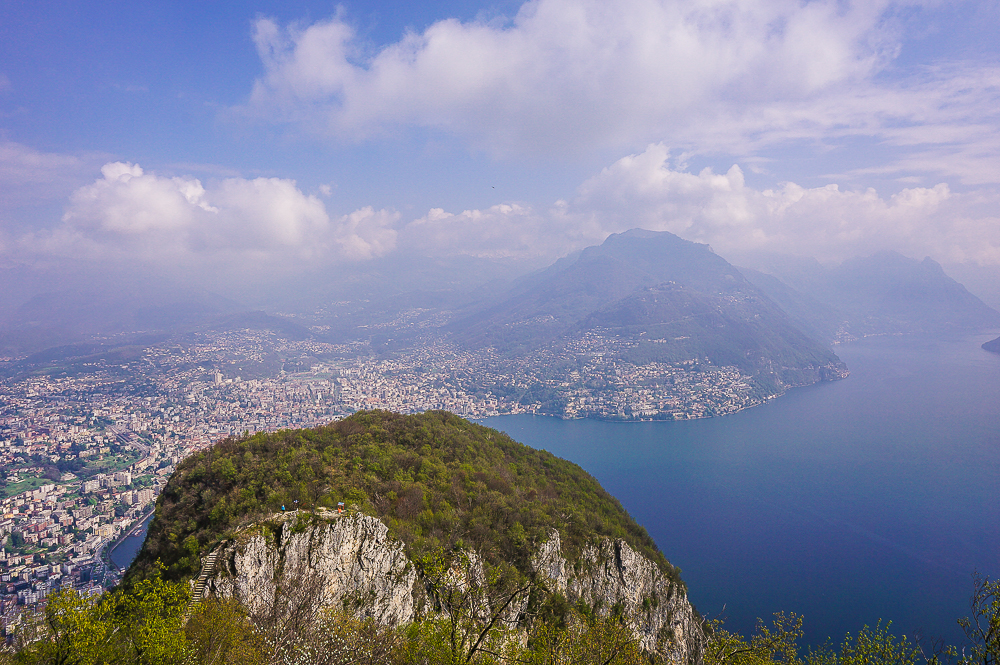 Although the descent to Morcote begins steep, from Ciona you walk without great height differences on comfortable hiking trails through the chestnut forest. More about this hike in my upcoming post.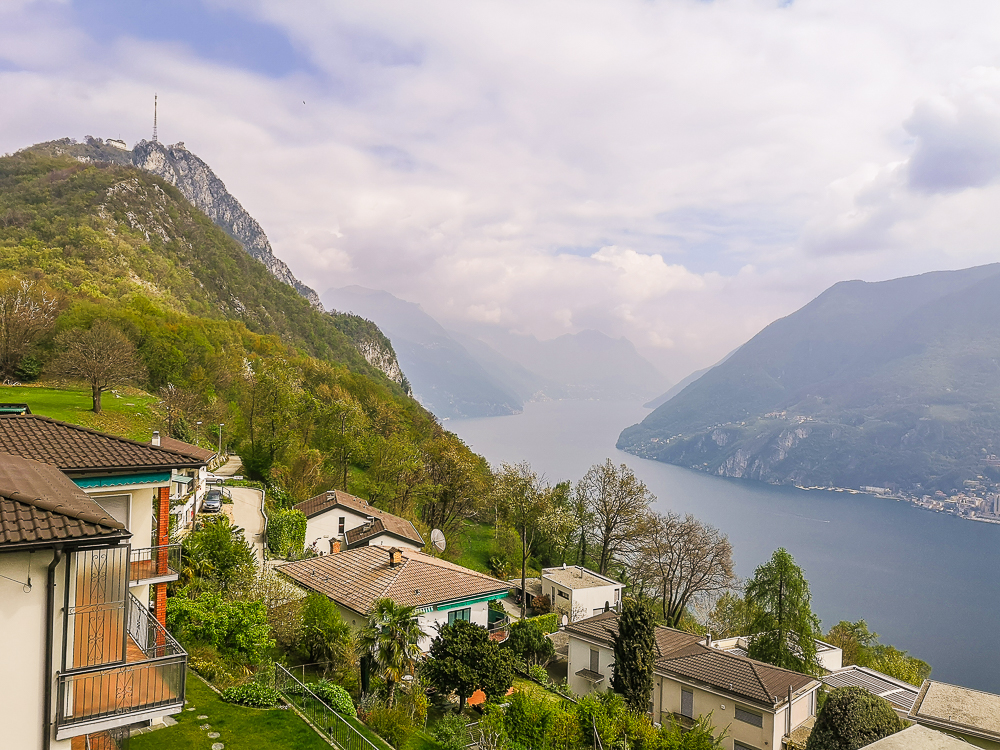 3. Visit the prettiest village in Switzerland
We ended our hike in Morcote. It was voted the prettiest village in Switzerland in 2016. The beautiful church Chiesa Santa Maria del Sasso that sits at the top of the village is a great vantage point. Through the meandering narrow cobble-stoned streets you can walk down to the lake. Here you'll find pretty colorful houses and restaurants.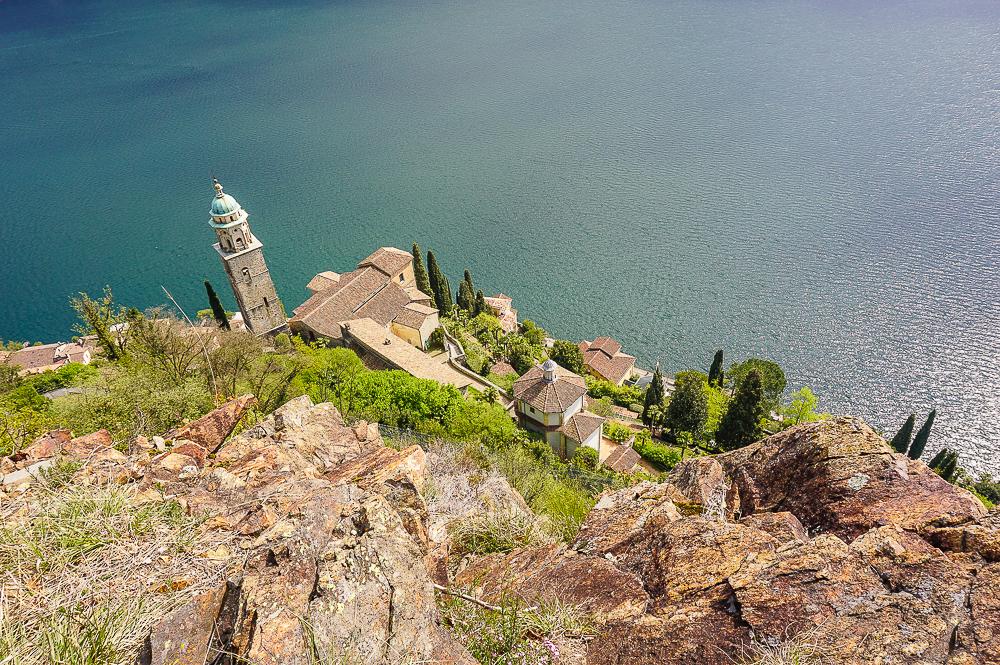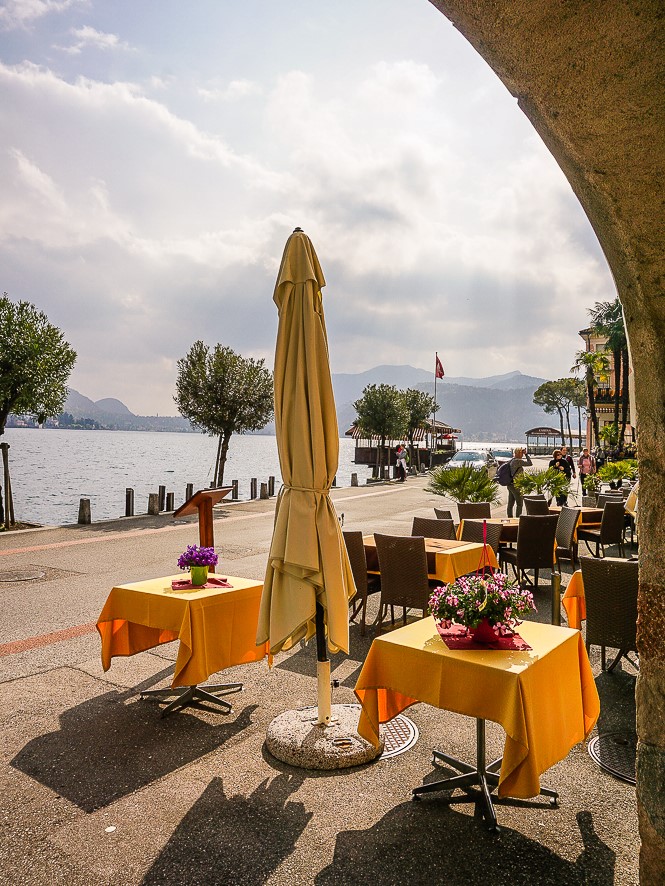 4. Take a ferry on the Lake Lugano
You can also see the Lugano region from a different perspective. In Morcote you can board a ferry that takes you back to Lugano.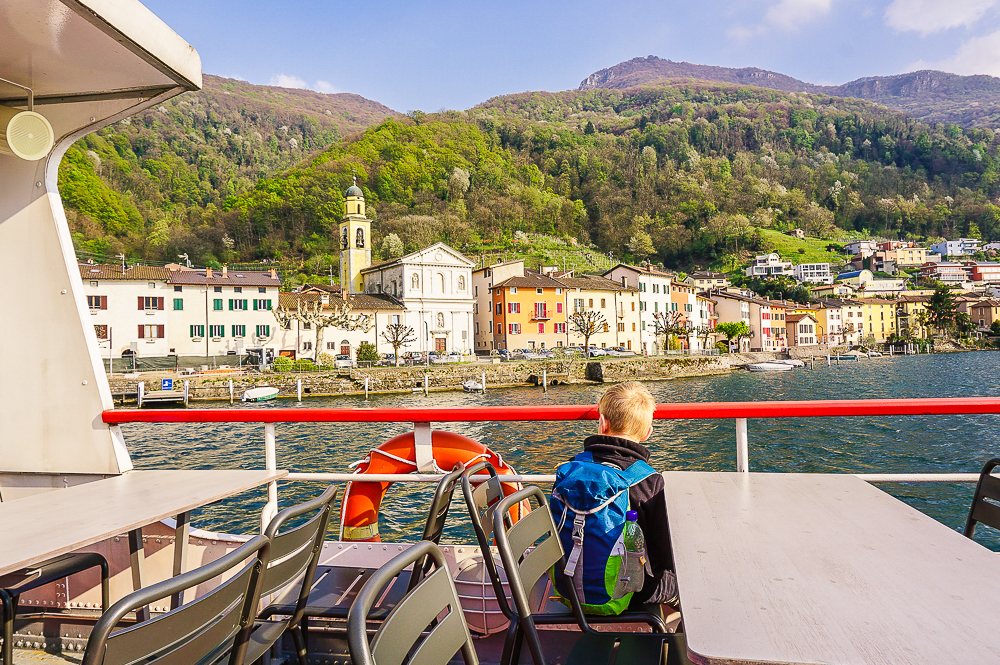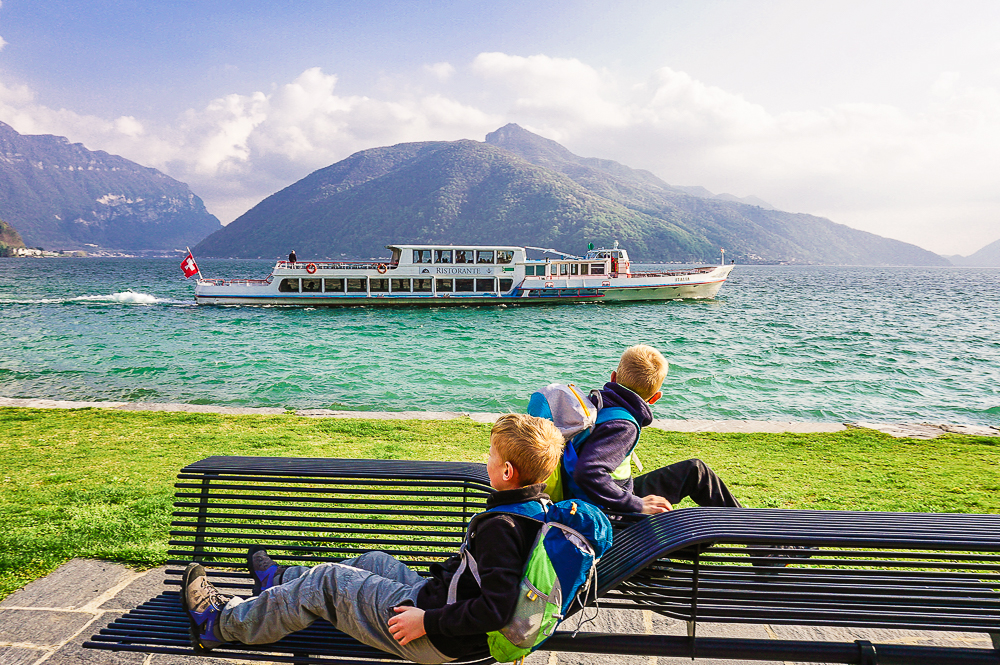 5. Visit Swissminiatur
Swissminiatur is an open-air miniature park in Melide where you can admire more than 120 hand-made models of the most important buildings, monuments, and forms of transport in Switzerland at a scale of 1:25.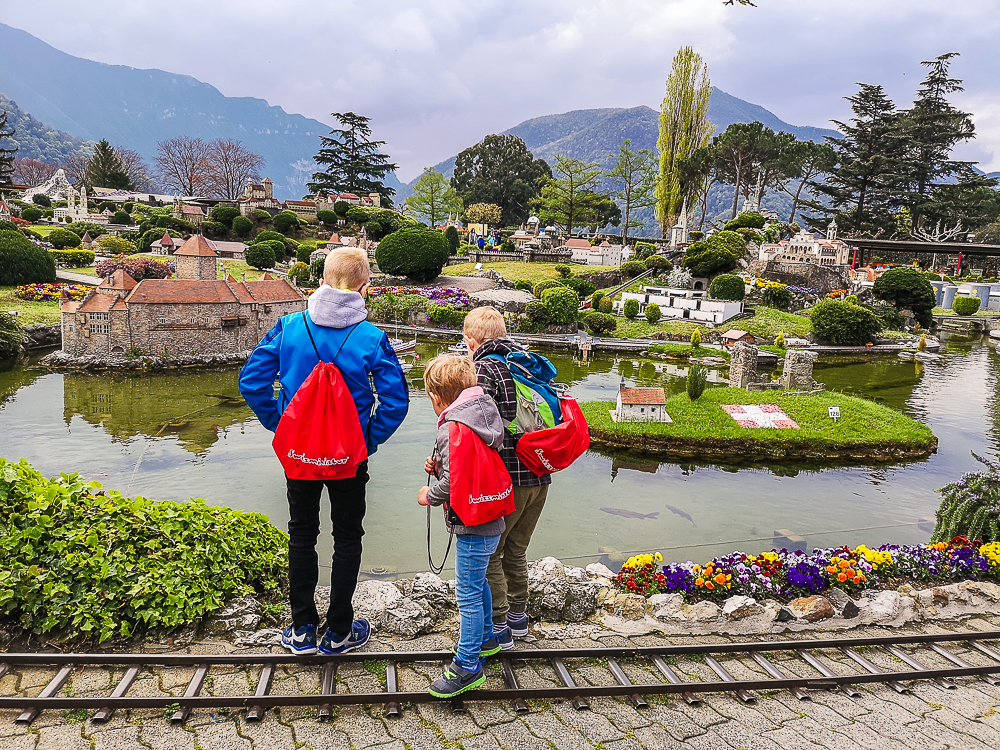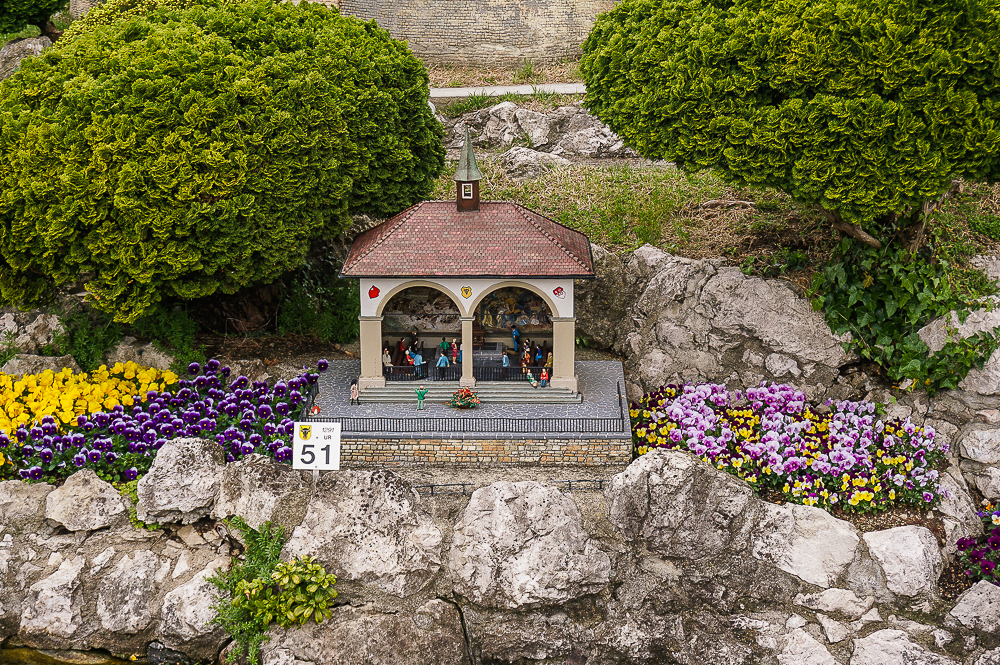 Still a family business, the Swissminiatur celebrates its 60th anniversary this year. 4 days of events, concerts, and local markets take place at the beginning of June! So come here to celebrate and have fun!
6. Get lost in the streets of Melide
You don't have to narrow your visit to Melide just to Swissminiatur. The tiny center of Melide is a tangle of crooked streets where you can easily get lost, but you will surely find the right way out.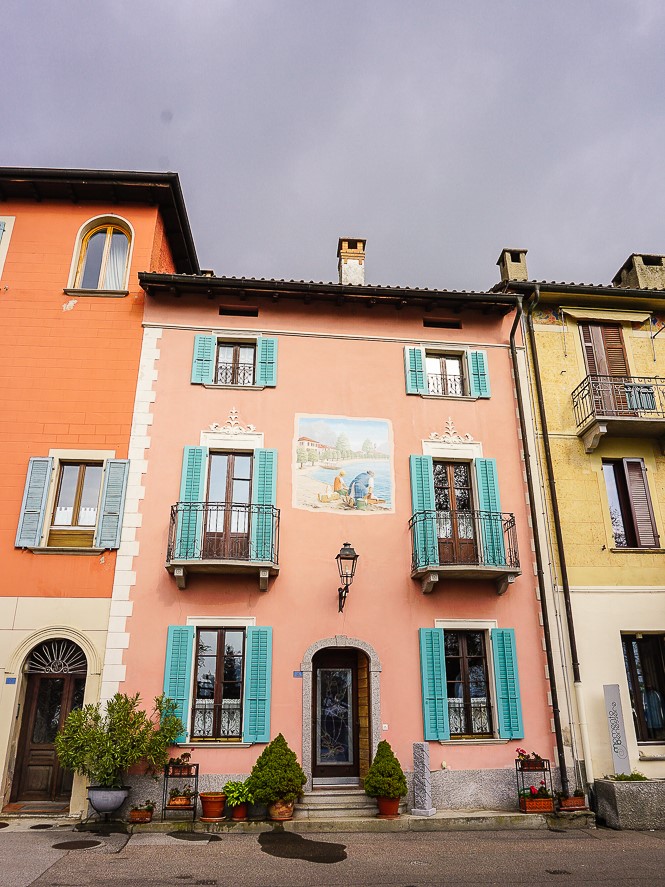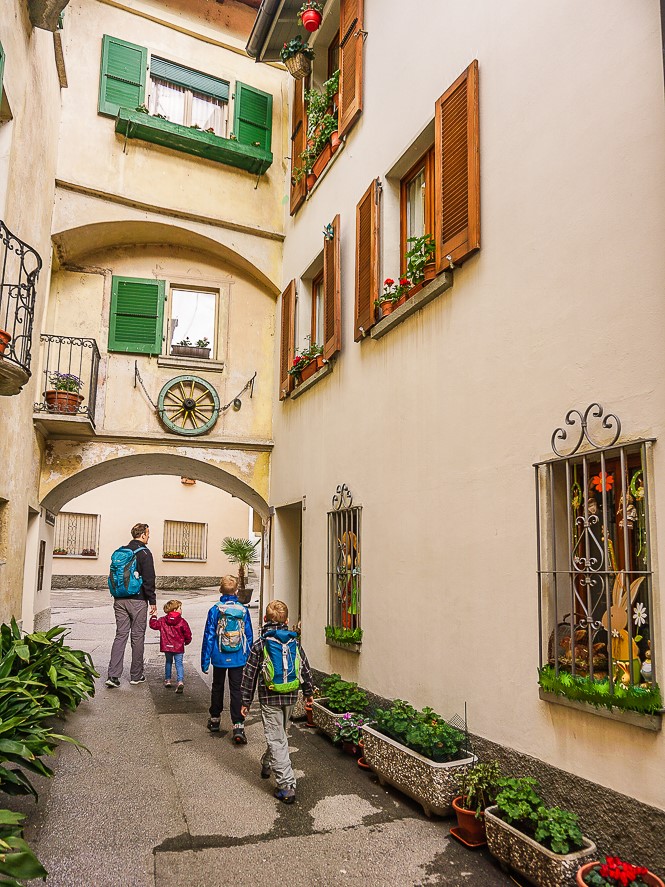 You can stroll along the lakeside promenade and children can have fun on the beautiful pirate playground.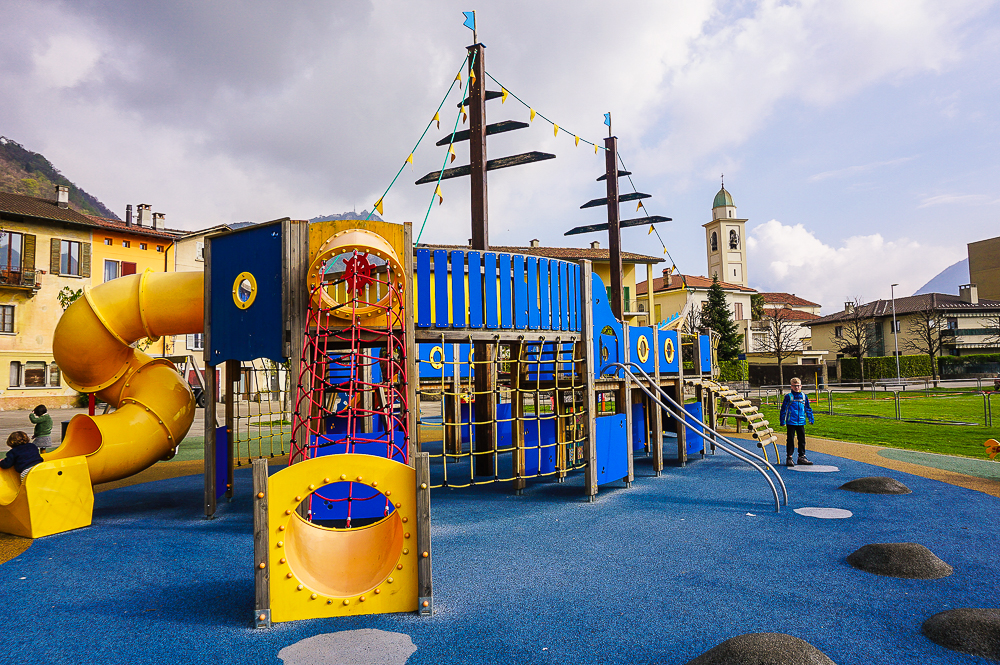 7. Relax in Splash & Spa Tamaro in Rivera
Just a 30-minute drive from Lugano you will find a place to relax your body and mind.
Splash & Spa is a fantastic way to spend half-day. The pools are great, with "surf" waves and bubbles at regular intervals, a baby pool with activities, and a larger pool with a swim-up pool bar, serving soft drinks. The 4 water slides are suited for children 6+. We pretty much enjoyed the outdoor pool with the water temperature of 35°C (although the outdoor temperature was about 4°C) and the great view of the snow-capped mountain tops.
As parents, you will surely appreciate that it offers swimming diapers and swimming inflatable armbands for the little ones.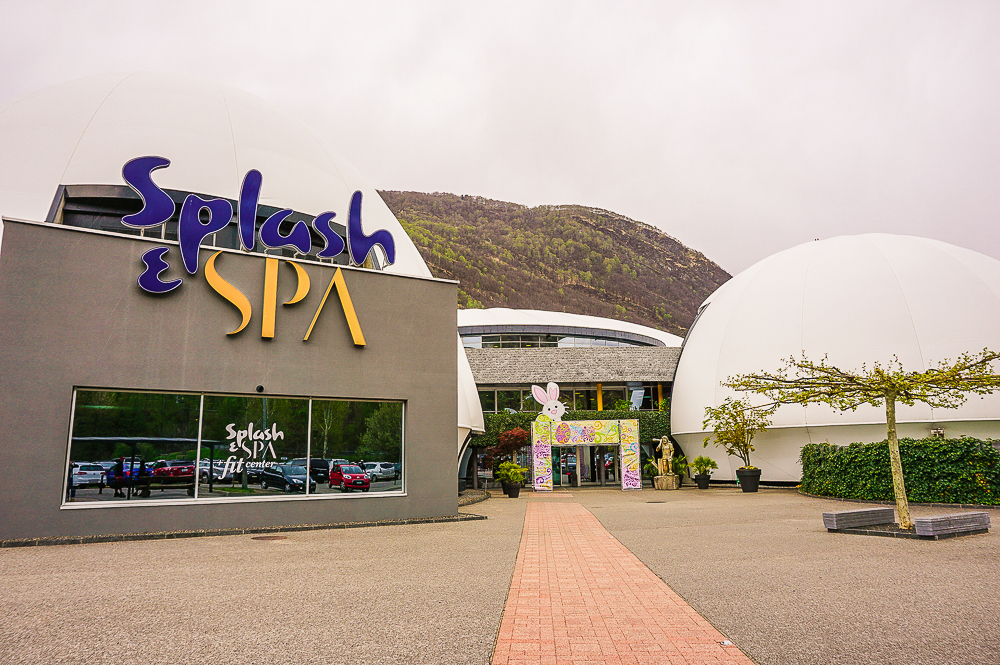 Where to stay
AD: We stayed at Riviera Melide free of charge, in exchange for the blog and social media coverage.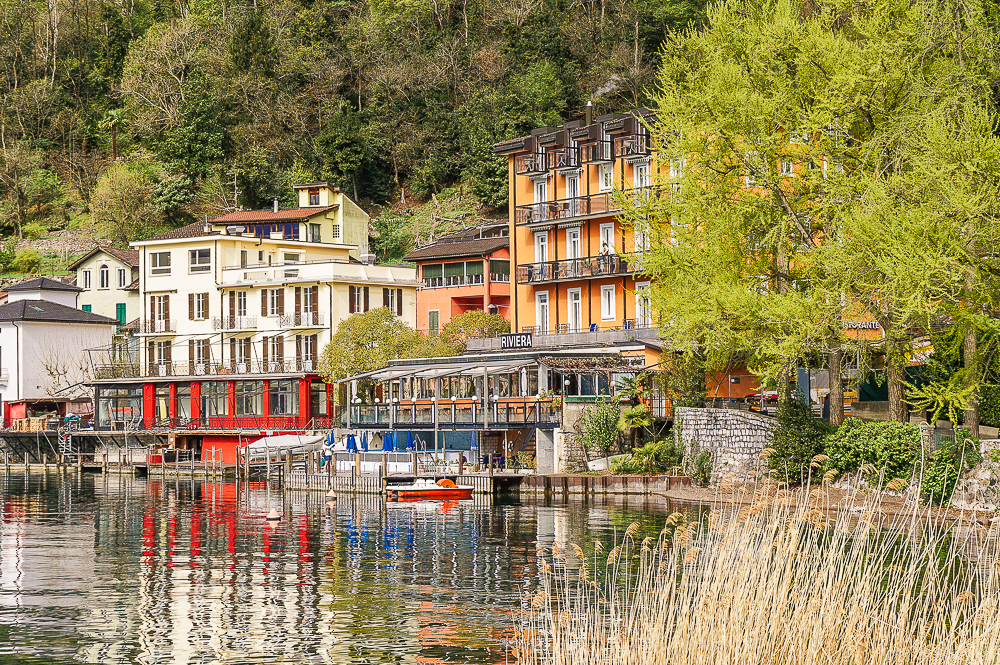 The Hotel Riviera in Melide is a cozy, fine 3 * hotel with a nice location on the shores of Lake Lugano. Each floor is furnished in different styles (Mediterranean, Asian, Modern, Nautic) – we were staying on the top "Nautic" floor.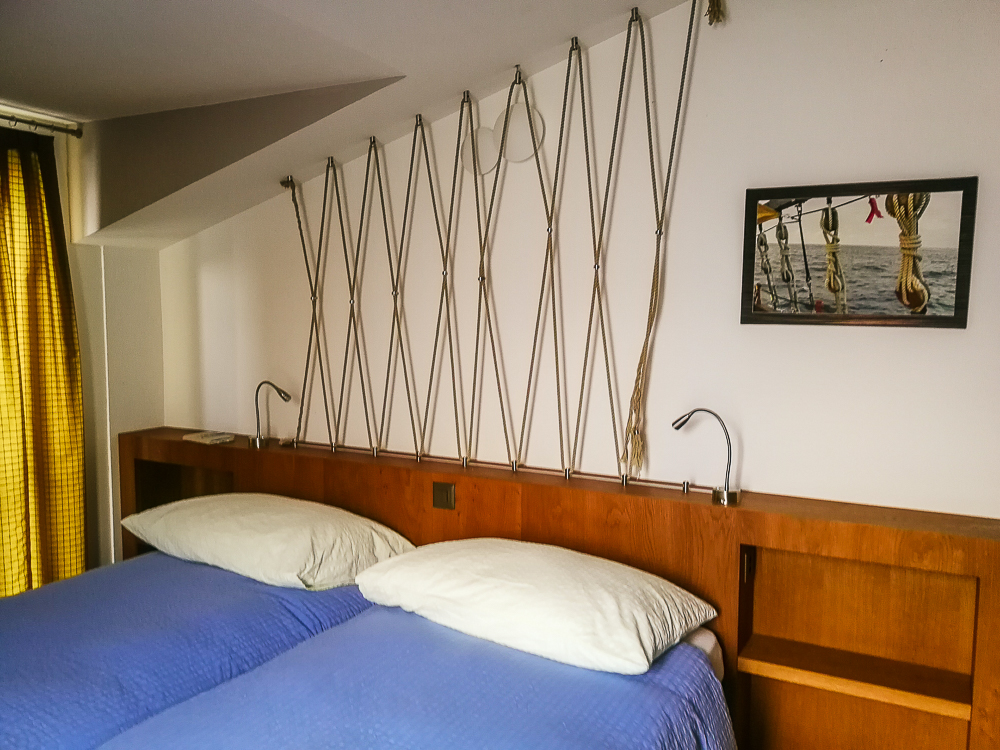 Food
One of the most important parts of travel is trying the food. In "our" hotel we were served the traditional "Menu Ticinese" for dinner: Schnitzel covered with egg and cheese and Risotto.
And when in Ticino, don´t forget to try local salami specialties from Rapelli.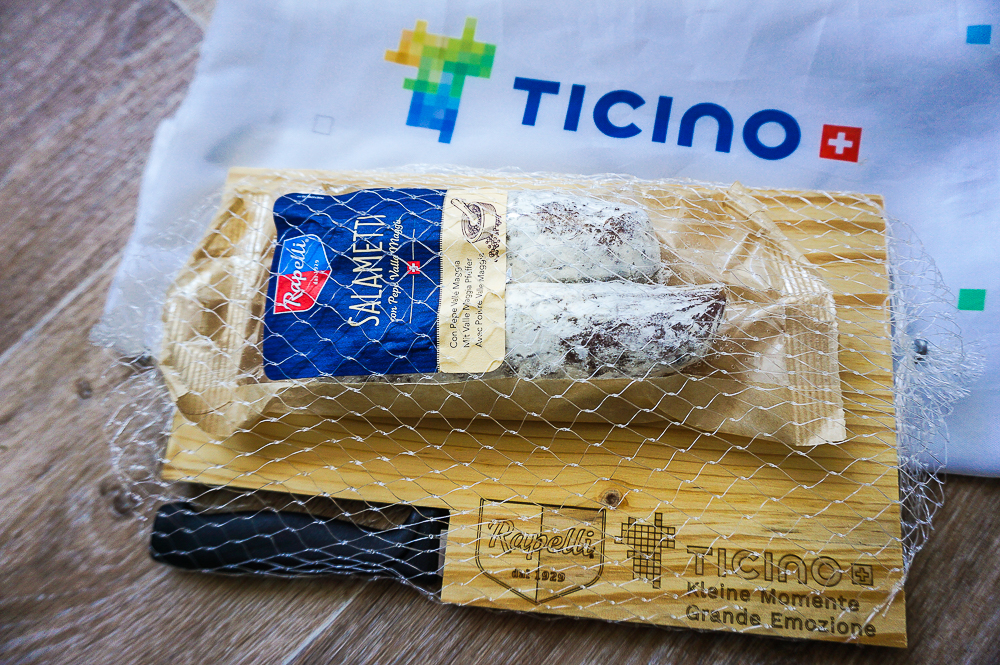 So, what do you say? Are you ready to pack your luggage and head immediately to Ticino to explore the Lugano Region? You should be because it´s absolutely stunning. One thing's for sure, we'll definitely be back.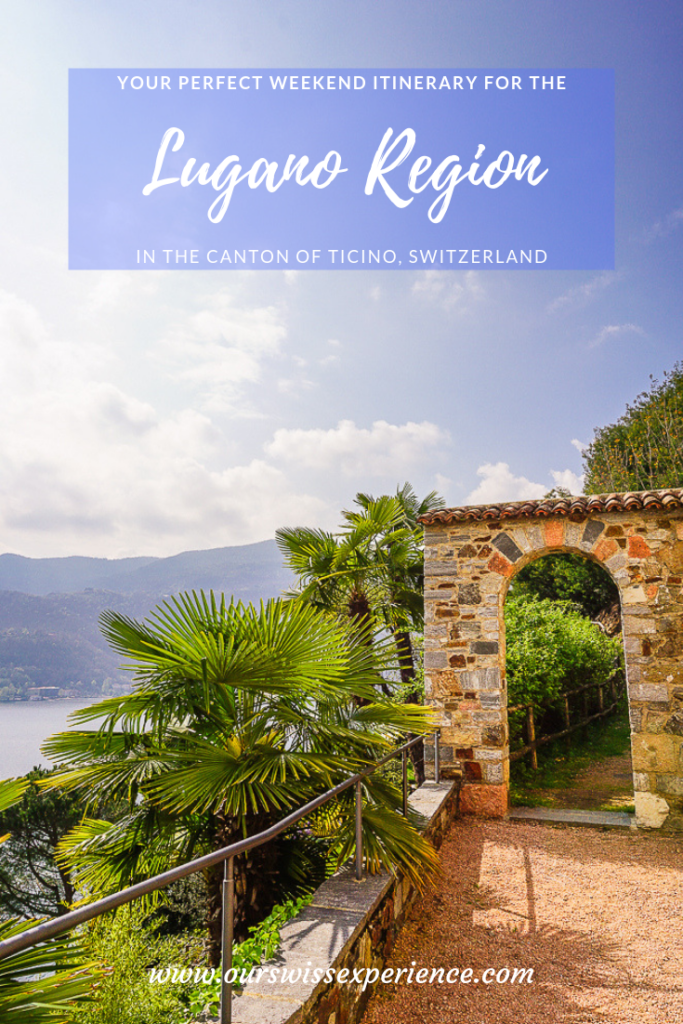 Are you wondering how my blogger colleagues enjoyed their stay in Ticino and what they experienced? Check their blog posts!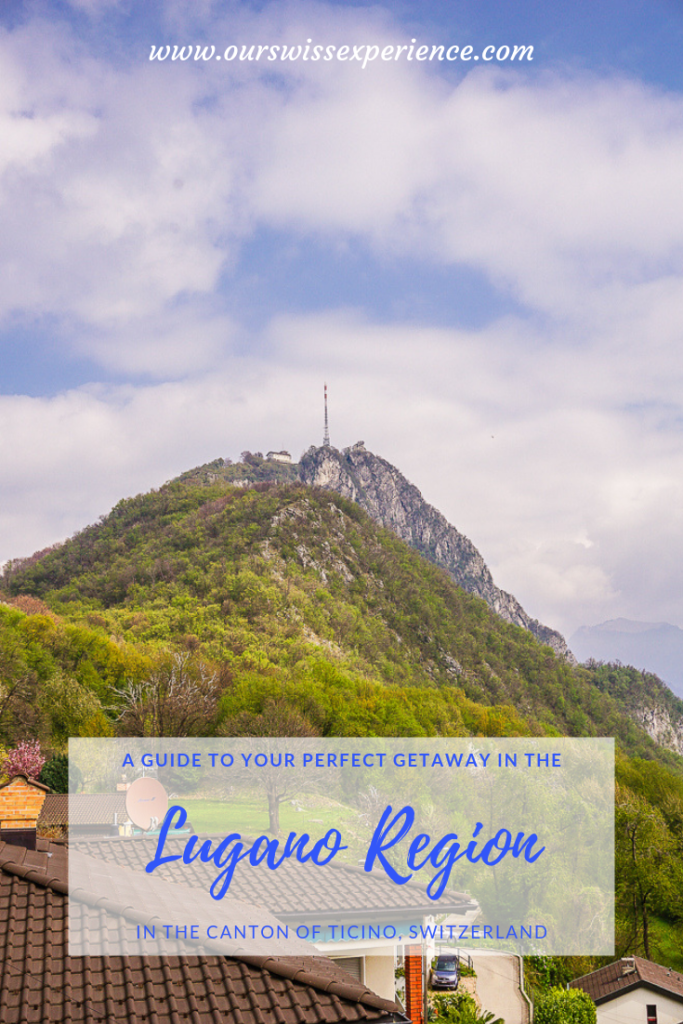 GIVEAWAY
We are teaming up with sbb.ch/freizeit to give away two 50CHF vouchers so you can take your family on a fun train trip to Switzerland!
If you would like to win one of the two vouchers, tell us by Sunday, 5 May 2019, 8 pm by commenting directly on the blog (whichever language version) if you already know Ticino or what you like best in this canton! You can find general competition conditions here.