Aquatis is the largest freshwater aquarium-vivarium in Europe. It is an interesting mix of an aquarium, ZOO and an educational interactive modern museum. Before we set out here, I was a little worried about how Aquatis would work out with the children compared to the Aquarium in Barcelona we visited last year, where we could admire sharks and other marine animals. Yet (or perhaps because of this) we went to Aquatis without any expectations and in the end, we were really pleasantly surprised and the children liked it here very much. Why? Read further!
Getting to AQUATIS
By car: Aquatis is located right at the Lausanne-Vennes exit of the A9 motorway. P + R Vennes is used as parking for Aquatis.
By public transport: by train to Lausanne, from the station by local M2 metro to Vennes (10 minutes). Aquatis is located directly above the metro station.
Before leaving Aquatis, don't forget to show your parking ticket to the staff at the counter, visitors have a 50% discount on parking fees!
Opening hours and admission fees
AQUATIS is open every day, all year round.
From November 1st to March 31st: 10 am – 6 pm
From April 1st to October 31st: 9 am – 6 pm
Ticket price for adults is 29 francs, for children 6-15yo 19 francs. Aquatis also offers various types of family admission (depending on the number of children and parents) and also a Happy Monday event where an adult pays "only" 19 francs. But beware! On that particular Monday, there must be no bank holidays or school holidays in the canton of Vaud.
Tickets can be ordered on-line, just download them to your mobile and scan them at the entrance.
There are lockers free of charge where you can put your jackets or other stuff you don't want to bring inside (I really recommend putting off your jackets, since it is very warm inside). The lockers are accessible from both sides, so you can pick up your stuff when you leave Aquatis via the souvenir shop.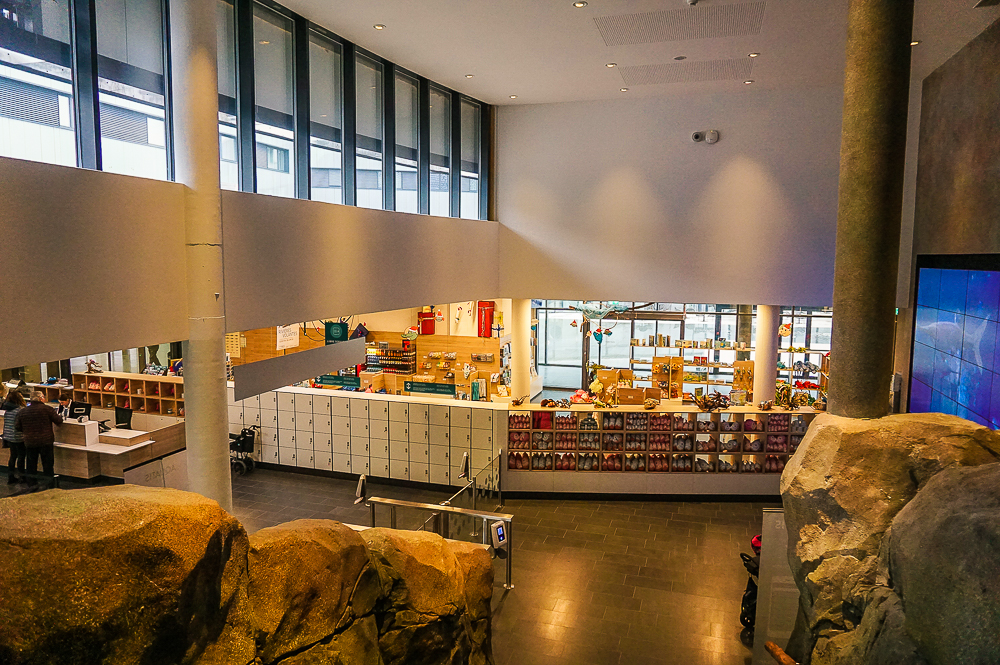 AQUATIS Tour
The tour starts quite logically with the introduction of the Lake Geneva biotope (since Lausanne is located on its shore) and the Rhone River. Not only fish, but also frogs, newts, snails, insects, and many other small animals can be observed in aquariums. In addition to aquariums, Aquatis is full of interactive displays and educational information.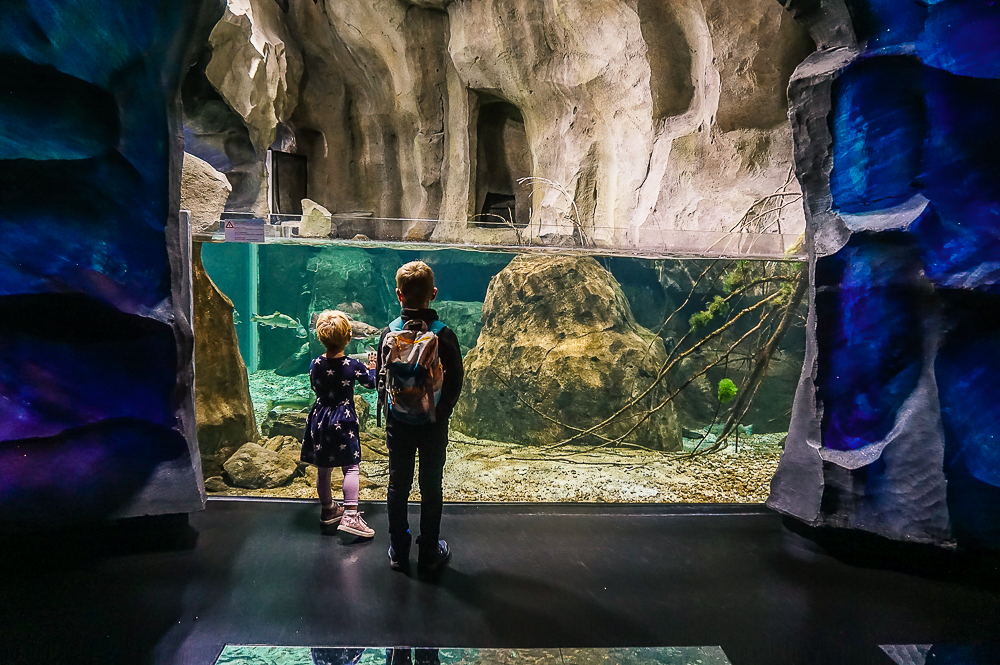 The exposition then continues to flow through rivers in Africa, Asia, Oceania and South America. Here you will see not only fish but also small rodents, crocodiles and the Komodo dragon. But it did not scare us as a huge model Spinosaur, which winds through the staircase from the ground floor to the first floor.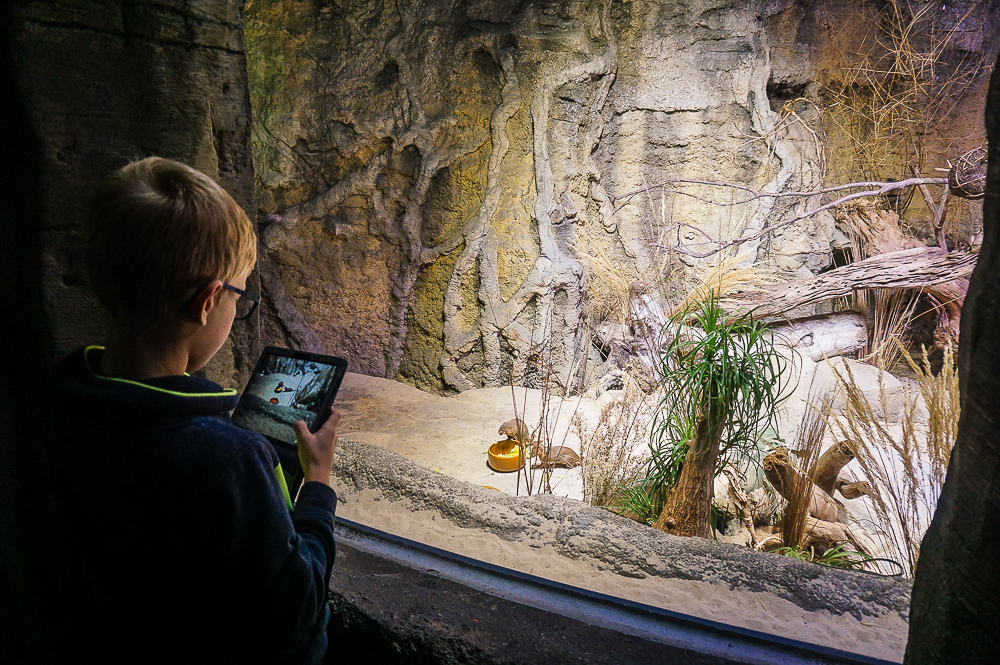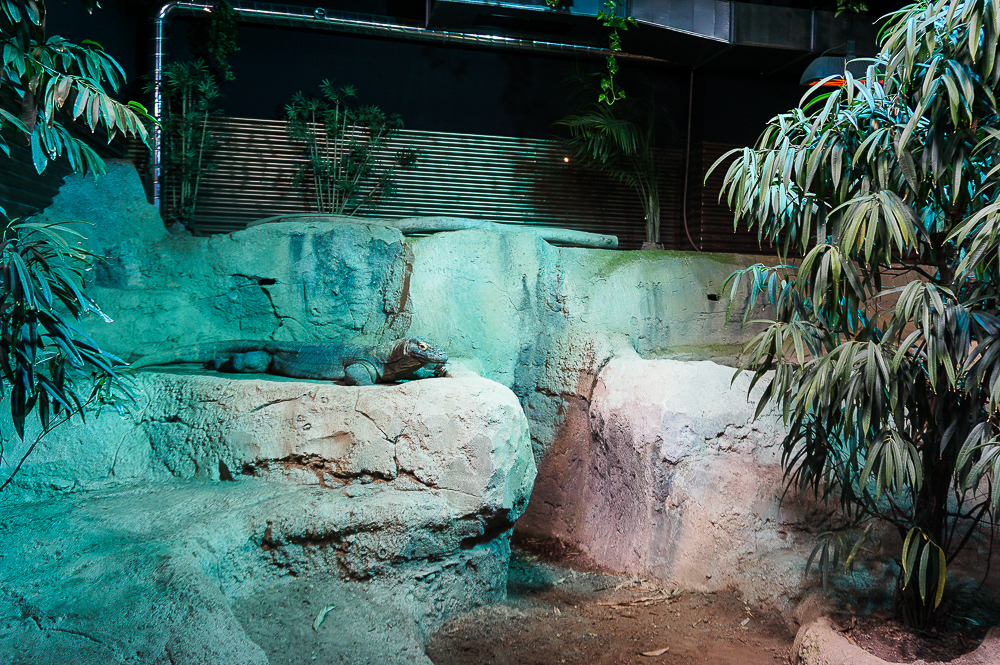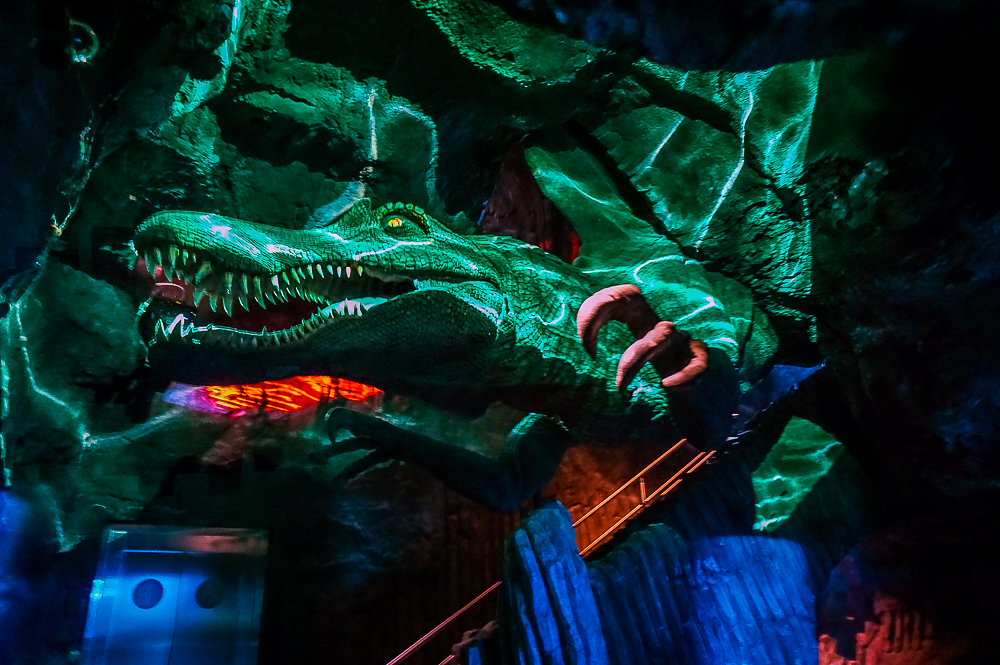 Inside Aquatis is held dark, which brings fish and other animals to the forefront. Here, too, which I realized after a considerable moment, plays quiet (even relaxing) music.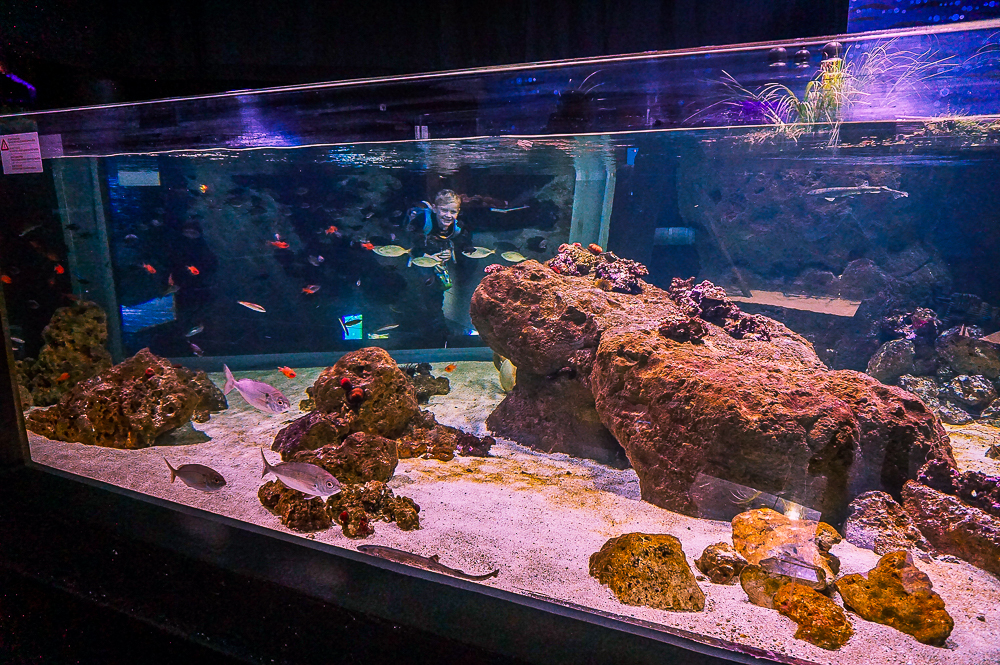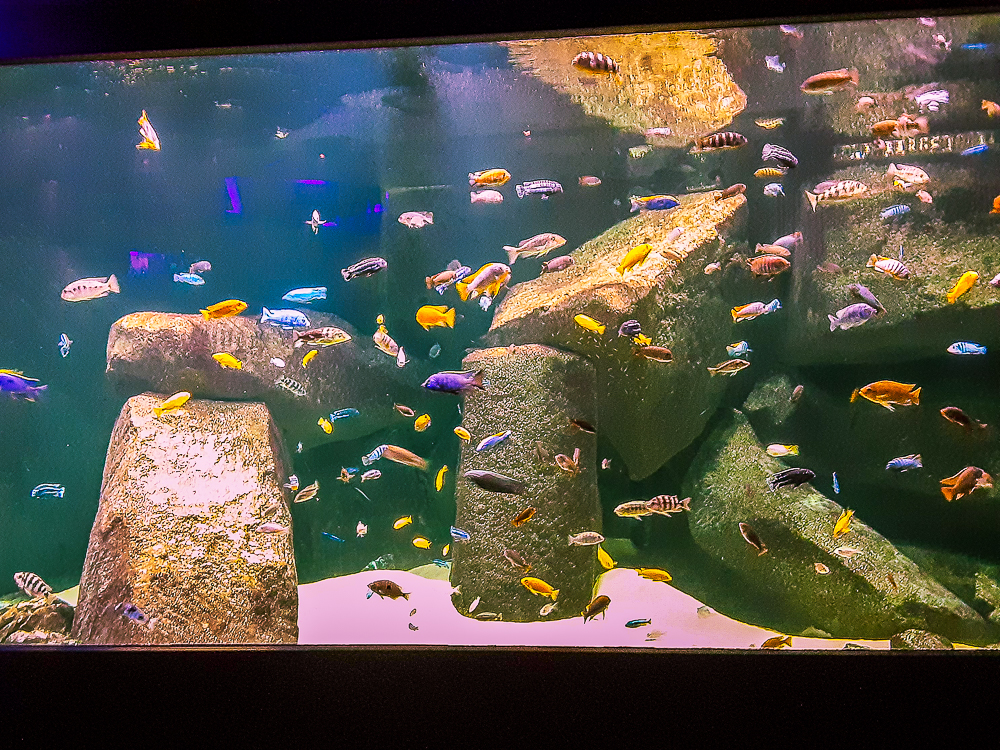 Almost in every room, there are also mirrors on the floor that reflect the 3D models from the ceiling (ladies, I recommend not taking a skirt for visiting AQUATIS, otherwise everyone will see … well, you know what 😉).
Summary
We visited AQUATIS on a regular Monday morning (no school holidays in the canton of Vaud, but in the "our" canton the children had a day-off). There were very few people here and we could see all the aquariums and information boards freely, without hurry or without waiting for our turn. But I can imagine that on weekends or rainy afternoons, it can be quite crowded here. Because I consider Aquatis to be a very well-designed museum – didactically and architecturally, and it is definitely a great place for a family trip. Although admission may seem relatively high to someone, it is justified in my opinion.
All the information spoken are in French, but you can choose the language (EN/DE) of the subtitles
There are toilets inside the exhibition halls, which may come handy, since you can easily spend 2 hours inside
You can also download an app to enhance your AQUATIS experience
After the tour, you can visit the restaurant Piranha