On the first Sunday in August, we took our Dominik to a hockey camp. Yes, we drove him. Here (at least in our hockey club) it works so that you have to take the child to the camp and then pick him up again. My husband was not entirely thrilled that we would only have to go to a place in the canton of Vaud about an hour and a half by car, on the contrary, I was thrilled when I googled and found out how beautiful this place in the mountains is and how many things can be done there. I immediately planned a beautiful hike for the rest of the family. But the weather was completely bad and heavy clouds began to roll over the mountain tops. And so I promptly came up with the backup, namely a visit to Swiss Vapeur Park – a theme park with several kilometers of miniature railway tracks, where ¼ scale replica trains run.
Getting there
Swiss Vapeur Parc is located on the shores of Lake Geneva (Route de la Plage, 1897 Le Bouveret). You can get here by car from Bern in an hour and a quarter. Take the A12 motorway and then the A9 in the direction of Montreux. From the A9, take exit 16 – Villeneuve, then drive in the direction of St-Gingolph, Evian, and follow the signs for Swiss Vapeur Parc.
Parking: there is a paid car park (1 franc per hour) directly at the Swiss Vapeur Park. But it could easily be full (as it happened to us) so we had to find another – at the intersection of Route de la Lanche and Chaussée du Canal, about 500 meters from the Swiss Vapeur Park. But we didn't mind at all, because we went through a beautiful quartier with small canals that looked like little Venice.
Opening hours and admission fees
Swiss Vapeur Parc is open daily from 10:00 to 18:00. Until 24 August, the opening hours are extended until 22:00 every Saturday.
Admission for an adult costs 17 francs, for children 3 – 15 years 14 francs. There is no such thing as a family ticket. You can save by buying a ticket for a specific date in advance online. In this case, a ticket for an adult and a child over 3 years costs 13 francs. There is no need to print this ticket, just show it at the ticket office on the phone.
Swiss Vapeur Parc
Swiss Vapeur Parc is a theme park for all train lovers – not only for children, but for all ages. It began to be built in 1987 and was opened on June 6, 1989 by the International Steam Festival (ie "vapeur"), which has been held here every year since June. At present, the park covers an area of approximately 19,000 m².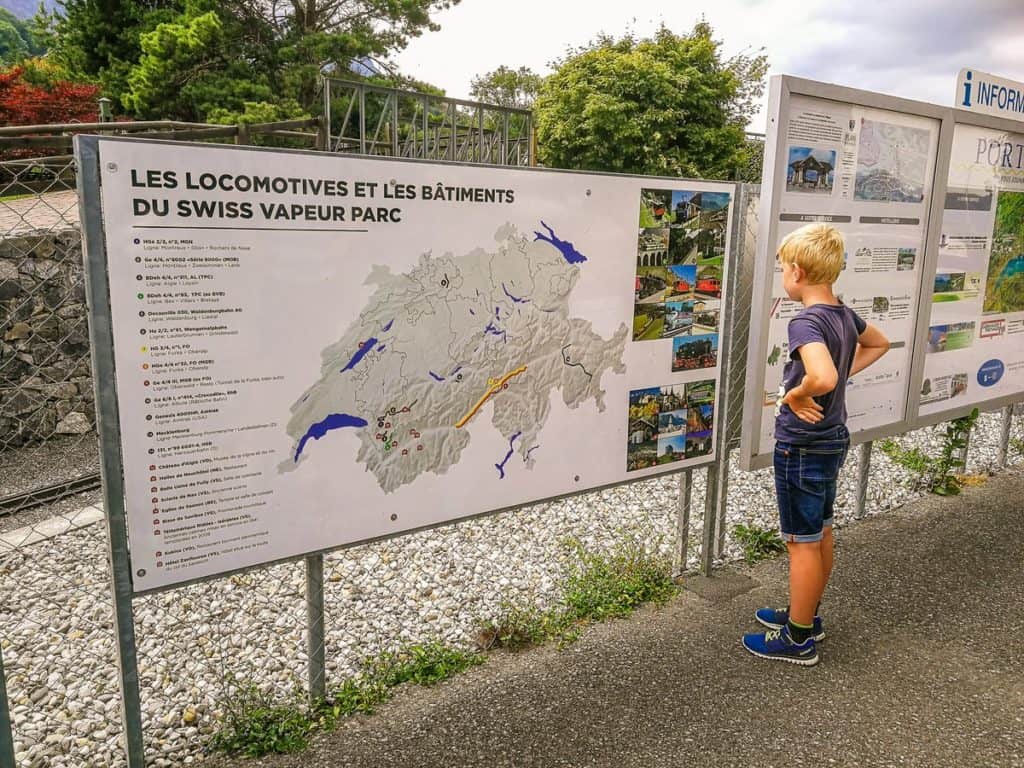 Trains
In the park you can ride a number of replica trains on a scale of 1: 4, from steam to electric. There are 3 different train routes (but they are not very different), there are also 3 stations in the park, where you can get on and off the train and change lines in the "hop on hop off" system as you wish, you can ride as many times as you want. Each ride on one track takes approximately 20 minutes.
Architecture
Trains run through detailed miniatures of more than fifty Swiss monuments – interesting replicas of historical buildings: you will see the Château d'Aigle, the church in Saanen, an alpine chalet, the medieval irrigation system "Bisse de Savièse" or railway buildings of all types.
You will also drive through bridges and viaducts (St-Pierre, St-Georges, St-Claude…) and through a 57 m long tunnel (guess which Swiss tunnel is 57 km long?).
Botanic garden
Swiss Vapeur Parc is home to more than one hundred and thirty species of trees and plants that you can discover during your visit.
Events
At certain times of the year, Swiss Vapeur Parc hosts various themed events, and the park is decorated in different ways. I admit that I was surprised at the beginning of the visit why the park, which is supposed to represent the Swiss railway and Swiss monuments, is full of train drivers in cowboy hats, why there are cardboard models of cacti planted in the grassy areas, why Indian dream catchers hang everywhere, why we walk around teepees and why should children look for a bandit in the park? I found out at home that from 27.7. to 23.8. the "Western Vapeur Parc" event takes place here, Halloween takes place in the autumn and the park is decorated with pumpkins and you can look for Easter eggs here at Easter.
Refreshment
In Swiss Vapeur Park you will find 3 varied offers: at the "main" station there is "Le Buffet" – a kiosk with ice cream and drinks, a short distance from the miniature church you will find the pancake house "La Treille" and on the opposite side of the park is the restaurant "Le Snack" with a daily menu. You can also have your own picnic in the park – there are plenty of benches and tables.
Summary
Visiting the Swiss Vapeur Parc was a spontaneous idea and we didn't really know what to expect here. But we were excited, it's a place where there is something really for everyone. Even my husband really enjoyed it, although he's usually not the type to enjoy children's attractions. I can imagine spending more than two hours here until our visit was interrupted by a heavy downpour. Surprisingly, the most disappointed from the bad weather was the husband, who wanted to ride other tracks and ride other types of trains. No matter, at least we have a reason to visit again 😉
The only downside is that the place, despite the generous space of 19,000 m² is relatively small and can easily get overcrowded (not to mention the capacity of the parking lot) with a large number of visitors.
There is also an Aquapark nearby, which we also plan to visit in the future.