It is not very often that we visit places that are hot news in the world of Swiss tourism right after they open. But it just came together so beautifully that on September 13, the new Lindt chocolate museum opened and the autumn holidays began for children on September 19. And since we are in the habit of taking at least one special trip to a place we haven't been before (or it's on our bucket list) during the holidays, the opening of Lindt Home of Chocolate couldn't come at a more opportune time. And I probably don't have to say that the children were excited to go to the chocolate museum with an unlimited tasting!
Getting there
Lindt Home of Chocolate is located at Schokoladenplatz 1, 8802 Kilchberg. In front of the museum, there is a bus stop of line no. 165 (Lindt & Sprüngli stop), there is also a port nearby, so you can also get here by boat on Lake Zurich. We chose to arrive by car. Parking is possible in the underground garages. We paid 4 francs for less than two hours of parking.
Opening hours and admission fees
The museum is open Monday to Sunday from 10 am to 6 pm (last entry possible one hour before the end of opening hours). Admission for an adult is 15 francs, children from 8 to 15 years pay 10 francs, for students and seniors the entrance fee is 13 francs. Family admission is not applicable here.
The tour is individual (with an audio guide), but you can also book a guided tour.
Measures due to Covid-19
As the health of Lindt visitors and employees is a priority, it is essential to wear a face mask when visiting Lindt Home of Chocolate. It is also recommended to buy tickets online. And if you already buy a ticket on the spot, use the contactless payment options. Hand disinfection stations are set up along the tour route.
You also don't have to worry about using audio guides – they are disinfected after each use. You also don't have to worry about losing product tastings when you visit – thanks to strict hygiene measures, nothing will stop you from enjoying the experience to the fullest.
And I don't think there's any need to remind you that in case of any symptoms of the disease, you should save your visit for another time 🙂
The world's largest chocolate fountain
As soon as you enter the lobby of the building where the cash registers are located, you will definitely notice the biggest attraction here – the largest chocolate fountain in the world. It is 9.3 meters tall, weighs 3 tons with 1,500 litres of chocolate flowing through it (at a rate of about a kilo of chocolate per second).
Tour
Then you ascend the spiral staircase and enter the museum. If you forgot to take the audio guide below, you don't have to go back here, but you can also take it here and choose the language in which you want to take the tour (you can choose from German, English, French, Italian, Spanish and Chinese). Every time you touch the whisk symbol during the tour, you will learn something interesting.
Cocoa cultivation
The interactive tour begins in the section dedicated to the main ingredient of chocolate, ie cocoa. Learn where Lindt chocolate cocoa is grown, harvested and further processed into chocolate.
Chocolate history
In this section, you will learn that cocoa beans, for example, were an important currency in Central America, how chocolate actually got its name and how it got from Central America to Europe, where it went from the privilege of royal courts to the working class.
The Swiss pioneers
An impressive room where you will learn about how a small mountainous country has become a giant in the world of chocolate. I liked that the authors of the exhibition were not limited to telling about their own brand, but mentioned all the personalities and places that had and still have something to do with the production of chocolate in Switzerland, even when it comes to competition. Did you know that it was Daniel Peter who invented milk chocolate? And that Rudolf Lindt invented in Bern in 1879 a machine for conching – that is, for mixing and rubbing raw materials, when the mass acquires the final fine consistency? And this made the mass production of chocolate bars much more practical.
Chocolate tasting
Do you like white, milk or dark chocolate? If you satisfy your taste buds, you can learn how the production process works and children can play quality controllers at the end of the "production line" in the form of an interactive game on a touch screen.
Cosmos
Chocolate has been made at the Kilchberg factory since 1899. But of course it is not the only place where chocolate is made in Switzerland. On the interactive map you will see where and when the chocolate factories in Switzerland were established, which disappeared and which still function today.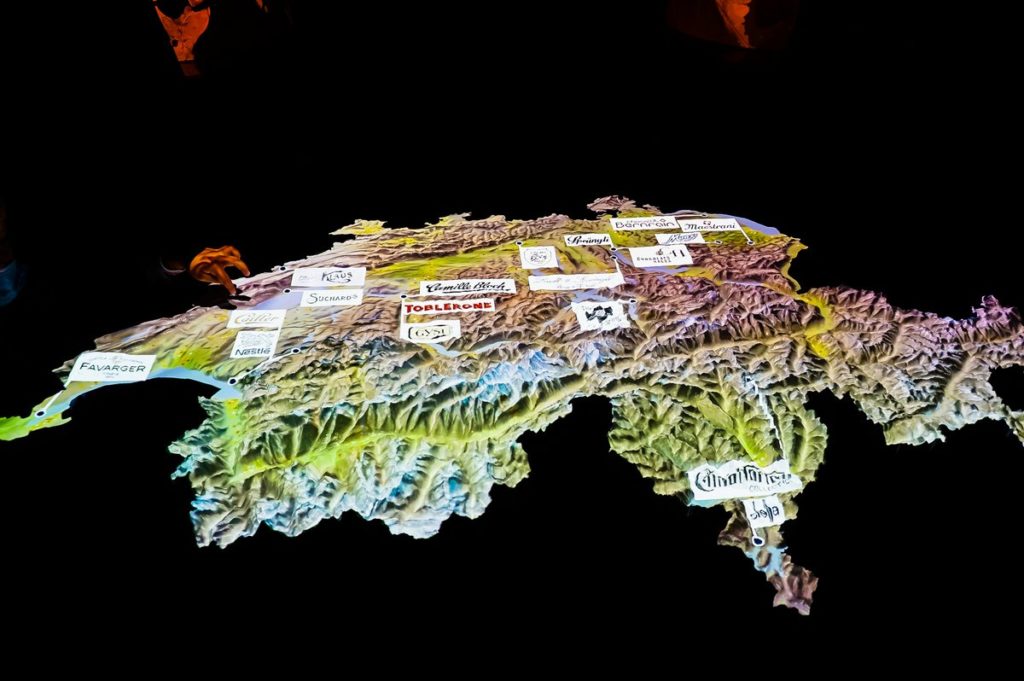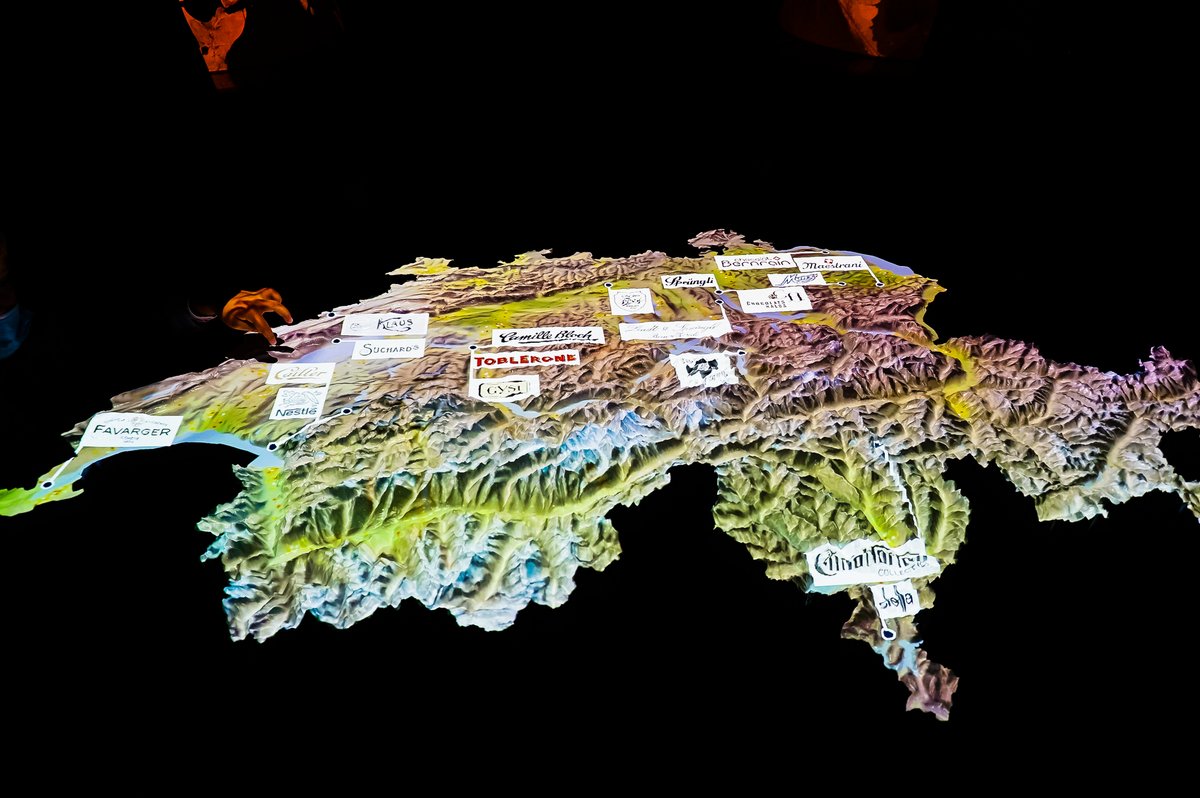 Final unlimited tasting
Welcome to the chocolate heaven! 🙂 If you have enough tasting delicious chocolate, you can take a picture of you as a souvenir in a photocell (other than in the shape of the iconic Lindt chocolate ball) and then have your photo sent to you by e-mail.
When you leave the museum, another little sweet surprise awaits you, so be sure to keep your ticket, you will need it.
Shop
If you haven't been fed up with chocolate by then, take a look at the store, which offers more than 500 m2 of chocolate shopping pleasure (it is, among other things, the largest Lindt chocolate store).
Here, too, you will find a photospot where you can even choose a background – chocolate, Swiss panoramas, or the "ambassador" of Lindt chocolate – Roger Federer (he is the ambassador of JURA – World of Coffee).
Summary
This time I left the evaluation to our children. What did you like here the most and as little as possible?
D (11): Tastings were the best, but the audio recordings were too long
P (8): the best was the tasting, but the conversation in my ear was too long
K (5): I liked the chocolate fountain and chocolate, but I didn't reach the screen during the game
Do you want to discover other chocolate factories in Switzerland? So the following article is made for you!