Our visit to the Basel ZOO was very spontaneous. In fact, we wouldn't have visited it if it weren't for the fact that our Dominik had a hockey game in Basel. Since he must have been at the meeting place more than an hour earlier, we were looking for a place where we could kill time. When we gave our younger kids the choice of going to see the city center or going to a nearby ZOO, their choice was quite clear. So we spent less than two hours in a small but cozy ZOO right in the heart of Basel.
Getting there
By public transport: The ZOO is located right in the city center, a short walk from the main train station (Basel SBB). Signs lead from the station and you can reach the main entrance in around 10 minutes. If you don't want to or can't walk, tram lines 1 and 8 go to the "Zoo Bachletten" stop.
The zoo also has a second entrance (which we took). You can get here by tram no. 2 or buses no. 34 and 36 (stop ZOO Dorenbach).
By car: For those arriving by car, there is a limited number of parking spaces at the main entrance. Otherwise, Elisabethen (Steinentorberg 5) and Steinen (Steinenschanze 5) parking garages are 10 minutes away.
Opening hours and admission fees
The zoo is open 365 days a year. From May to August from 8 am to 6.30 pm, in March, April, September and October from 8 am to 6 pm and from November to February from 8 am to 5.30 pm
Family admission (for 2 adults and 2 children up to 20 years old) costs 43 francs. Children from 6 to 16 years pay 10 francs, youth (from 16 to 24 years) pay 15 francs, seniors over 62 years 19 francs, and adults 21 francs.
If you are staying in Basel and get a BaselCard as a guest, you have a 50% discount on admission.
Visiting the ZOO
The zoo is really green – I do not mean the water in the sea lion tank, but I mean a lot of trees, plants and shrubs. All paths (including indoor exhibits) are easily accessible with prams and wheelchairs.
The diversity of species is quite basic, you will see many large animals of Africa (elephants, lions, giraffes, zebras), as well as gorillas, chimpanzees, antelopes, bison, flamingos, kangaroos, and more.
We also saw an Indian rhinoceros for the first time, and cute sea lions and penguins with their wobbly gait were a nice icing on the cake.
The main highlight of our visit definitely included a visit to the pavilion of monkeys with chimpanzees, orangutans, gorillas, and other species. The battle of the two monkeys, when the third tried to "scold" them and to tear them apart, was long unforgettable for our children ("It's like by us at home, Mom!").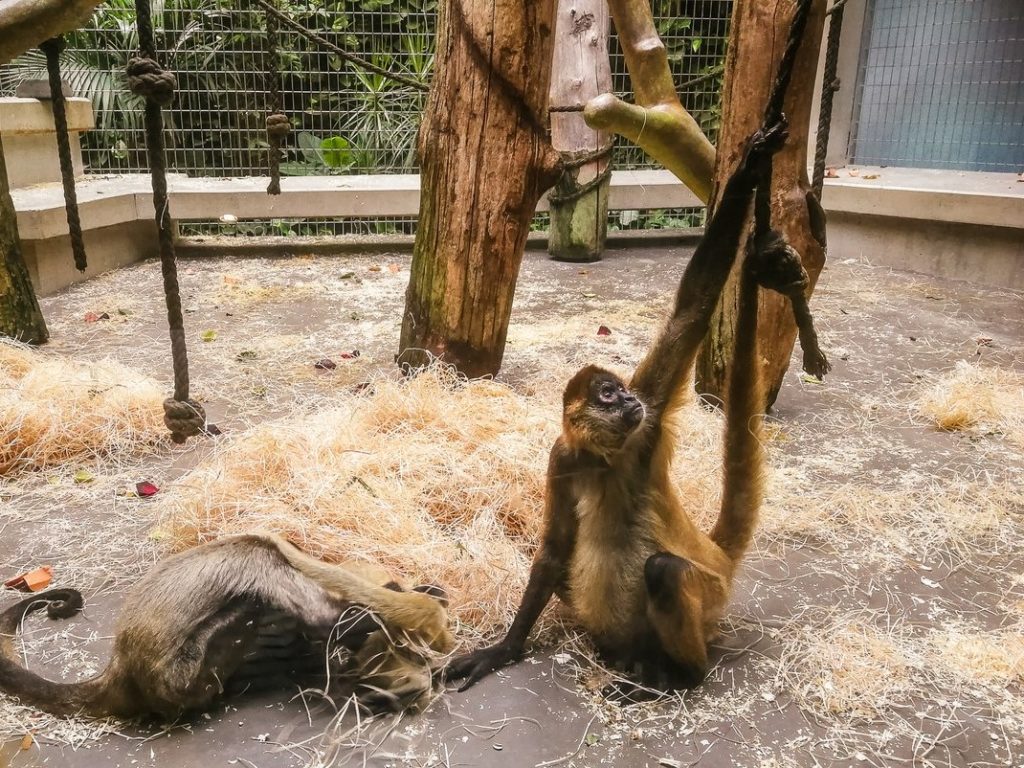 Summary
In the ZOO, there is a large self-service restaurant and a kiosk with refreshments.
After the visit, I read in the reviews that it is a large ZOO – but with all due respect to this ZOO, the visitors were probably not yet in Prague or at the Lešná ZOO 😀
We spent less than two hours here, but I dare say that we could spend a lot more time here if we didn't have to hurry to our son's hockey game (and we still missed one third 🙂)