It all started last fall. I went jogging my favorite route along the Emme River and saw a colorful pebble the size of a five-franc. I didn't pay attention to it and kept running. In the following week, I saw more stones in several different places and I started to wonder: "Why are they there? Who put them there? What to do with them? And why aren't they there anymore? "Around that time, the teacher of mom-kids gym lessons we attended with our little girl invited me to the Facebook group" CH Rocks – original ".
I accepted the invitation to the group and suddenly I could see lots of pictures of beautifully painted stones. Some were with simple motifs, others were truly works of art.
I wanted to find such stones again. But, damn it, I couldn't suddenly see colored pebbles anywhere. I'm not really talking, about a month or a tap. And it took about a month, I was almost desperate. Until suddenly in early February we went with our little one for a walk and found a painted stone. Its artistic design wasn't really stunning, but the joy, people, the joy that was there! And our little girl suddenly wanted to paint stones too. I was happy that she was grabbed by something creative that we can do together because for a long time I was quite conscious that while I was creatively working with the boys at this age a lot, with our little one I am far behind in this direction (but who would manage if we still have to go to hockey training at the ice rink, right?).
And so our dining area turned into a creative workshop for a while, I found at home almost forgotten stone decals that we once brought my parents when they came to visit us (when I was still creative with the boys) and started production of our own painted stones. So far, our stones are far from the works of art, but I rather enjoy the time spent together and the enthusiasm that I see in the eyes and especially the hands of our little girl when holding a brush. And when we look for a place to put our stone and find a new one.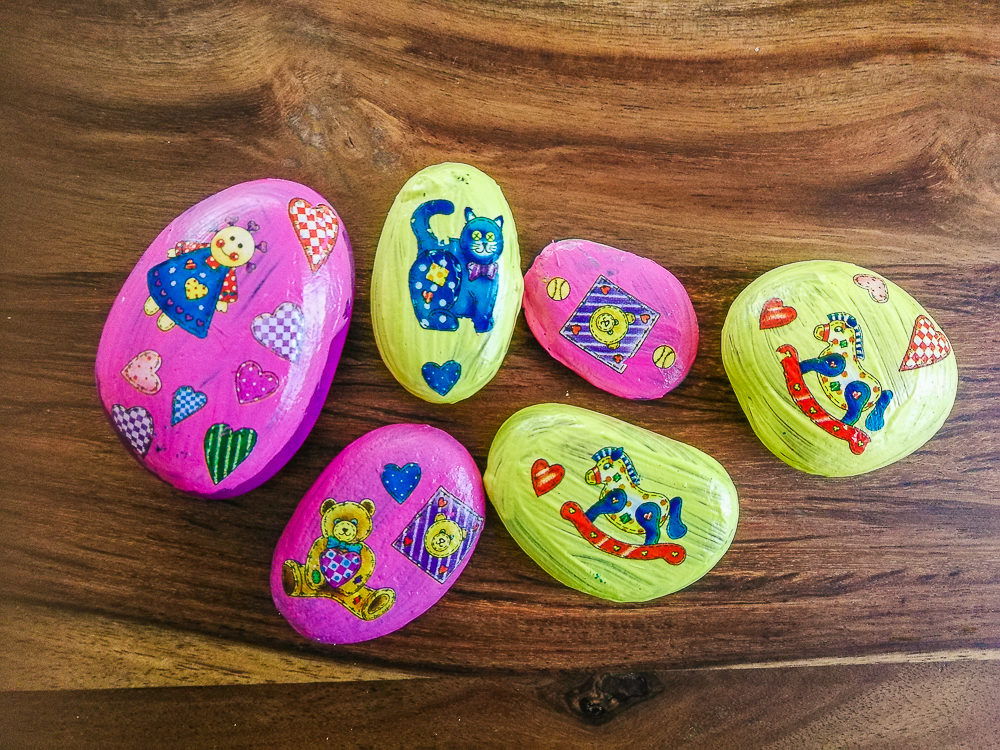 And why do I write that stone painting is a new passion for the Swiss? Because the Facebook group, which was formed in June last year, currently has over 44 thousand active members and more are added every day. The group was founded by Evelyn and Stefan Truttmann, who found inspiration on their Florida vacation, where they found a stone with a painted flower. When they returned from vacation, they wanted to do something similar in Switzerland. *
The members of the group paint on "rocks", which they then leave in various places – whether in cities or in nature. If someone finds the stone, he/she can send the photo to the group and write if he kept it or hid it again somewhere. For many young and old, painting on stones has become a big hobby that makes others happy. Because who would not like to find a colored pebble reminiscent of a work of art in the day, which is special, unexpected and unique and can make your day?
And what about you? Have you heard of this new trend? Or do you paint the stones yourself? Let me know!
Tip: if you want to start painting on stones, then
use environmentally friendly paints and varnishes,
do not stick any stickers on the stones that could peel off and be eaten by animals
write the name of the Facebook group on the back of the stone