I don´t know about you, but my nightmare at family bike trips is that our trail will take us on the busy road. What if the kid loses its balance and falls off the bike straight under the passing car? Or the cars will overtake us too closely? Fortunately, during the slowUp which takes place in several places in Switzerland during the year, I don´t have to stress about these things. During this cycling event, the roads are closed to traffic so you can enjoy the ride with the whole family without worries.
What is slowUp?
Since its first release in 2000, the popularity of this event has grown steeply. From year to year, both the number of participants and the places where the event is organized are increasing (you can find the location map and the dates of the events here). From a small pre-election event, slowUp has become a national event, with everyone involved: young and old, families and individuals, people on bikes, in-line skates, scooters, e-bikes and other means of transport, whose driving you must use your own muscle power. And everyone attending this (I dare to say) feast can enjoy the joy of movement and the great atmosphere on roads without cars.
The slowUp takes place in any weather and the participation is free of charge thanks to the support of national and local of partners and sponsors. I took part with the children at the slowUp Emmental Oberaargau, which took place on 9 September.
Arrival
It is recommended to use public transport, especially local BLS trains, for arriving and returning. Of course, those who for some reason can not arrive by public transport but have to come by car, find dedicated parking spaces in Sumiswald, Huttwil, and Kleindietwil.
I decided to come with the kids by train. I was slightly worried because I traveled by train with bikes for the first time in Switzerland. Will there be plenty of space on the train for all participants´ bikes coming to slowUp? How much do I pay for the bike? Do the children pay for their bikes´ transport? Luckily, all these tricky questions have been answered by the staff member at the information desk at Burgdorf Train Station, so we could safely take the bikes to the train and enjoy the ride to the Emmental.
Traveling by train with your bike
: If you are a holder of the Halb-fare card and your half-price one-way ticket costs less than 13 francs, you also buy a half-price a ticket for your bike. 
If the ticket price is higher than 13 francs, buy a Day bike pass (Velotageskarte) fora reduced fare of 13 francs.
If you do not own the Halb-fare card, the principle is the same, except that you pay 20 francs for the full fare Day Bike Pass.
Children between 6 and 16 years of age who hold Junior card travel for free (even with their bikes) if accompanied by one of their parents.
slowUp Emmental Oberaargau trail
The total length of the route with a starting point in Sumiswald is 38 km. But it's up to you where you start, whether in Sumiswald or Huttwil, whether you're biking the whole trail or just part of it.
As the name suggests, the route connects two regions: Emmental and Oberaargau. Emmental with its gently rolling hills is thanks to its easy accessibility a popular destination for day trips from the capital of Bern. The Emmental with its old farmhouses that are simply charming with their typical overhanging roofs, windows with shutters and boxes with geraniums (or other seasonal decorations) in each of them (you have surely read my post about 10 reasons I love "my Emmental" and you´ll too).
In contrast, the Oberaargau forms the easternmost point of the Bern canton. The region, comprising 58 villages and towns, is located in the heart of Switzerland, in the "Midland" (Mittelland) area.
Refreshments
On the way, you (and foremost your kids 🙂 )can enjoy small treats from sponsors – candy, müsli, müsli bar or the typical Swiss soda Rivella.
Then there are various refreshment stands in the villages along the trail. There are, of course, traditional sausages, fries, hot dogs, cheese specialties, ice cream, or milkshakes. If we were to stop at every stand, we would not go home until Monday 😀 We had a great meal as a reward for our performance in Sumiswald.
Program for kids
The municipalities on the slowUp trail have provided, in cooperation with local guilds, not only snacks but also a program (eg DJ, milking cows, etc.). And main slowUp sponsors offered activities for children: bouncy castles, photography (we have sent a picture of us as a postcard, so we will see when it will arrive 🙂 ) and various competitions.
Steam train
For those who wanted to enjoy the beautiful landscape without much effort, it was possible to ride a historic train drawn by a steam locomotive (there was also a wagon for bicycles).
My impressions
As I mentioned at the beginning, I set up with some worries at the event, especially worried about a train trip. I had no expectations from the event itself, I was just looking forward to the day spent in the Emmental. But I have to say that slowUp has exceeded my expectations. Even though I'm not a fan of "mass" events, it did not seem so to me. Even though there were a lot of participants, they all seemed to "spread out" smoothly along the trail. No long queues for refreshments or activities.
In addition to classic bikes, e-bikes and skaters, I've seen a tremendous amount of bikes that you do not usually see – mono-cycles, electric air wheels (this one I've seen for the first time in my life), a wheel for 4 … and a camel too! I confess, I almost fell off the bike 😀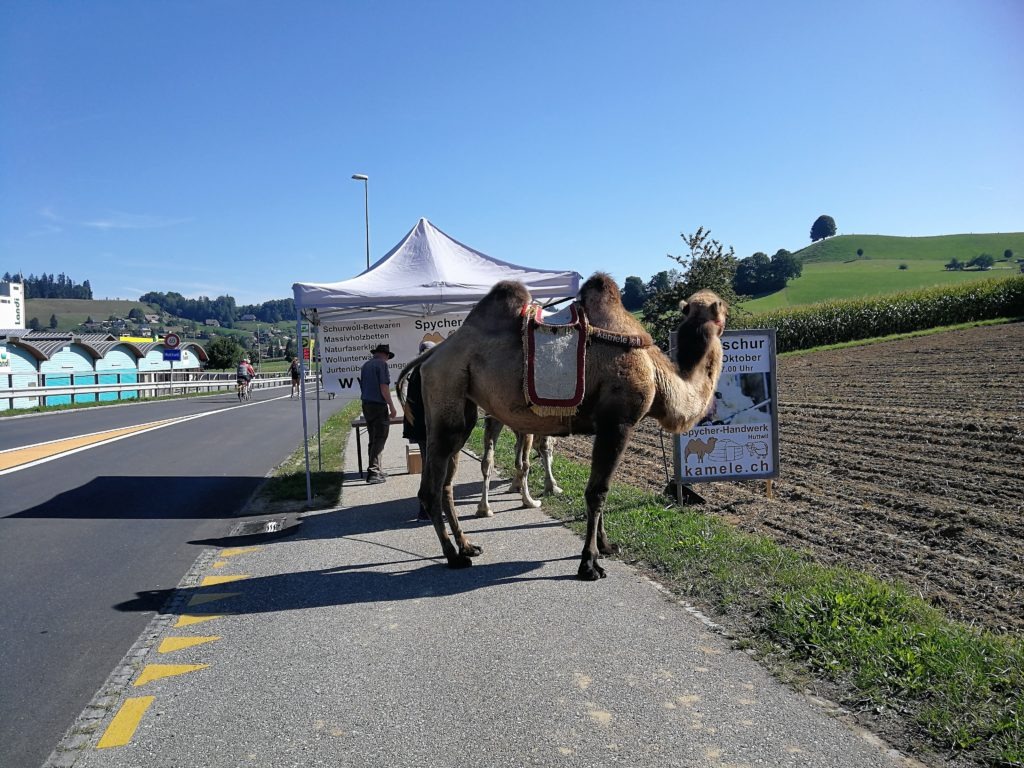 I really liked the idea of Flyer lift. The riders on the e-bikes helped in-line skaters to overcome a quite long and steep hill with the T-lift.
My tip: If you do not plan to make a family trip, but want to ride the trail alone without the crowds, drive off in the morning. The roads are closed from 9 am and you will have the trail (almost) for yourself.
There is no wonder that slowUp has become such a popular event all over Switzerland. We spent a great day riding the beautiful trail, riding through places where I've never been to (a leg between Häusernmoos, Huttwil, Kleindietwil, and Mühleweg). And especially: I enjoyed a great atmosphere with the kids! Of course, the great weather has contributed 😉
PS: This is not a sponsored post – I'm just glad that I could finally attend this great event that I was excited about. And I will be happy to spread its good name further. And maybe I will inspire someone to join.
And what about you? Have you ever participated in slowUp? At which place? How did you like the trail and the atmosphere? Let me know in the comments!